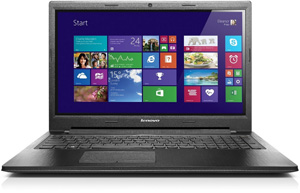 Back when I first heard that Lenovo was planning to buy out IBM's personal computer business, I was concerned that the quality of their PCs would suffer. But that turned out not to be the case at all.
Lenovo has consistently built high quality machines, and that has paid off by making them one of the world's top selling brands year after year.
I recently had a chance to check out the Lenovo IdeaPad 15.6 Inch Touchscreen Laptop, and I was impressed with the quality and features that come in the standard model.
Its beautiful 15.6 inch touch screen display, fast 2.5 GHz Intel Core i5-4200M Haswell CPU and 6GB of speedy DDR3 RAM make for an excellent combination of great looks, power and functionality, all at a price that's extremely competitive for laptops in its class.
Here is a rundown of this Ideapad's other features and components:
Intel HD 4600 Graphics w/ both VGA and HDMI ports
Lenovo AccuType keyboard
10-Key Numeric Keypad
One 1GB hard drive
One DVD/RW drive (something that's growing increasingly rare on modern laptops)
One USB 2.0 port
Two USB 3.0 ports
A powerful 5-hour battery
An 802.11b/g/n WI-FI adapter
RJ-45 Gigabit Ethernet port
Bluetooth 4.0 support
Dual speakers w/Dolby
Windows 8.1 (you won't have to go through the hassle of upgrading from Windows 8)
As you can see, you get a lot for your money with this laptop. The only thing that could be better is the weight. I find it to be just a little heavy at over 5 pounds, but not really bad at all. In my opinion, this computer offers plenty of power and functionality for a laptop in its price range.