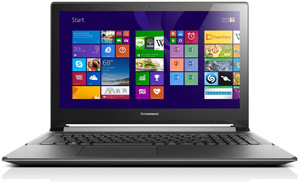 Not all that long ago you basically had a simple choice to make when it came time to buy a new computer: Desktop PC or Laptop?
Well, these days things are a bit more complicated because we now have tablet PCs thrown into the mix.
Of course if you're shopping for a desktop PC your choice is easy. Simply choose the brand and model that has all the features you need, then buy it.
But if you prefer something that you can take along with you, you'll need to decide whether you want to stay with a traditional laptop or try your luck with a tablet. But what if you could have both, in one device?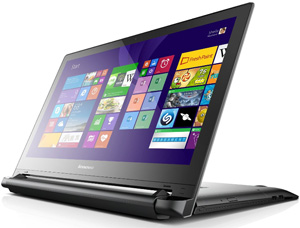 The Lenovo Flex 2 15.6-Inch Touchscreen Convertible Laptop (#ad) offers exactly that much flexibility. You can open up the case as you would any laptop and use the built-in keyboard and pointing device.
But if you fold it a little farther, you essentially have a Windows tablet with a 15.6″ touchscreen that's already mounted on a handy stand!
This isn't a cheap-made, weakling of a computer either. In fact, it's about as powerful and feature-packed as most folks would ever need. Check out these specs:
Bright 15.6″ 1920×1080 touchscreen
Powerful 1.8 GHz Intel Core i7-4500U CPU
8 GB DDR3 RAM
500 GB hard drive
DVD-RW optical drive
Wireless type 802.11bgn Wi-Fi connectivity
2 USB 2.0 Ports
1 USB 3.0 Port
Backlit AccuType keyboard
Stereo speakers with Dolby Advanced Audio
7 hour average battery life
Windows 8.1 (eligible for free upgrade to Windows 10 after July 29, 2015)
Only 1.1" thick
As you can see, this convertible laptop/tablet has everything you'll need to handle most any computing task. The case is sturdy and attractive, and it's very easy to use in both laptop and tablet modes.
I was very impressed with the battery life on this machine. Depending on the tasks that are being performed, a charge can actually longer than the 7 hours mentioned in the specs.
Bottom line: This laptop/tablet hybrid PC offers the best of both worlds, with plenty of speed and power to boot.
Click here (#ad) to check out the Lenovo Flex 2 15.6-Inch Touchscreen Convertible Laptop at Amazon.