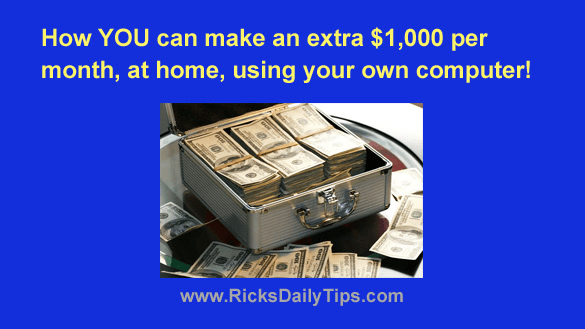 "How YOU can make an extra $1,000 per month in your spare time, at home, using your own computer!"
We see headlines like this all the time, and most of us instantly associate them with scams and fraud. And truth be told, most of them are indeed just that.
But there are some legitimate work at home opportunities out there. The one I'm about to explain to you in detail is no scam, and the above headline describes it quite accurately. 
Make no mistake – This is NOT a "Get Rich Quick" scheme. Those typically do involve scams and fraud, and the only people getting rich quickly from them are the fraudsters who promote them.
What I'm going to reveal to you in this post truly is a legitimate opportunity to earn a decent part-time income, from home, using your own computer.
And yes, even YOU can do it. Success won't come overnight (it typically takes around a year to reach the $1,000 per month level), but the effort is minimal, and so is the time required each day to do the "work".
By now you're probably wondering what this work-at-home plan entails, so I'm going to tell you. It's earning affiliate commissions using Facebook, Twitter and your own blog.
After reading the preceding paragraph you're probably saying to yourself, "I can't do that!" But the truth is you can. And I'm going to tell you how, step-by-step.
The first thing you need to do is open an account on both Facebook and Twitter. Chances are you already have accounts on both, but if not just visit these links and sign up:
Once you have accounts on Facebook and Twitter, start posting the normal stuff that everyone else posts such as status updates and photos. You can also "Share" the posts, photos, videos and links that other users post.
Now, begin adding "Friends" and "Followers". Do this slowly, and only send friend requests to people that you actually know. The goal is to add as many legitimate friends as possible, but in a way that won't get your account blocked.
It's extremely important that you always maintain the attitude that your Facebook and Twitter profiles are primarily for interacting with your friends and followers, NOT for making money.
If your only reason for having Facebook and Twitter accounts is to make money, you probably won't. Just sayin'. That being said, the more friends and followers you have, the better.
Another word about your posts: Make your posts interesting, funny, informative and useful while posting photos that grab your friends' attention.
The goal here is to enjoy your time on Facebook and Twitter while helping your friends do the same. By doing both you will be enriching the lives your friends while maximizing the number of people who will see your posts (including the affiliate offers that I'll get to shortly).
After you have built a decent following on Facebook and Twitter, it's time to create a blog. My preferred approach here is to create your own self-hosted blog using WordPress (this post explains how, step-by-step).
That being said, if you aren't all that eager to get your hands dirty by creating your own blog from scratch, you have a great alternative: Pay the tech-savvy kid down the street or a local college student a few bucks to create a blog for you!
Once you have your blog up and running, start publishing some posts about topics that interest you.
For the purpose of making money via affiliate marketing, it's best to choose and concentrate on a single, very targeted niche (recipes, gardening, wedding planning, household tips, technology, etc.), but you can always create additional blogs that cover other niches.
Once you have 15 to 20 posts up on your blog, you can apply to the Amazon Associates affiliate program.
Amazon Associates is one of the best affiliate programs for newbies to join because the requirements are very lenient and it's extremely easy to create Amazon affiliate links for any of the literally millions of products that Amazon sells!
Opening an Amazon Associates account is easy. Here's how:
1 – Visit www.amazon.com and click on the Become an Affiliate link in the "Make Money With Us" section at the very bottom of the page.
2 – Once on the Amazon Associates main page, click the Join button and complete the form as required.
Once your application has been approved, you can start promoting Amazon products on Facebook, Twitter and your own blog(s). Here's how to post affiliate links directly to your Facebook Timeline and Twitter account:
1 – Log in to your Amazon Associates account, then visit the Amazon homepage.
2 – Using the search box, find an item that you think your Facebook friends and Twitter followers might be interested in purchasing.
3 – While on the sales page for the item you wish to promote, take a look at the gray Amazon Associates menu bar near the top of the browser window.
4 – Select Facebook and follow the prompts in the "Share" box that pops up to post an affiliate link to the product in question to your Facebook Timeline. Now, repeat this step to post the link to Twitter.
That's all there is to posting Amazon Affiliate links directly to your Facebook and Twitter accounts. Pretty easy, huh?
If one or more of your friends or followers click that link and end up buying that product (or most anything else that Amazon sells for that matter), you will earn a commission on every item they purchase.
Now that we have Facebook and Twitter squared away, lets move on to an even more effective way of promoting your Amazon affiliate links and earning the commissions that result from the sales they generate.
It's time to start adding affiliate links to some of the posts you publish on your blog. You can add Amazon affiliate links to most any post you write, but "Review" posts are by far the most effective when it comes to earning affiliate commissions.
The reason is simple. When visitors to your blog read a product review, they will learn about the product and hopefully be in a buying mood by the time they reach the end of the post.
If so, there's a good chance they'll click your affiliate link and buy the product on the spot after reading more about it on the Amazon product page.
As I mentioned earlier, Amazon Associates is one of the best affiliate programs that a newbie blogger can join, for the following reasons:
1 – It's one of the easiest affiliate programs to get accepted into. Really, all you need is a half-way decent blog and you'll get in.
2 – Once a potential customer clicks over to Amazon's site, they are true masters at closing the sale. Amazon has years of experience and they have spent millions of dollars fine-tuning their product pages to make the customer's buying decision as easy as possible.
3 – Even if the customer doesn't buy the product you linked to, you will still earn a commission on any other item(s) they buy from Amazon within the next 24 hours. For example, if a customer clicks on your affiliate link for a popular cookbook but ends up buying a microwave oven instead, you earn a commission on the microwave!
4 – Every product page has customer reviews that other people have written about the product in question. Many items have literally thousands of customer reviews, and if the majority of those reviews are positive that gives the potential customer a warm and fuzzy feeling about buying that product.
It's easy to create an affiliate link to any page on the Amazon website to add to your blog posts. Here's how:
1 – Log in to your Amazon Associates account, then visit the Amazon homepage.
2 – Using the search box, find an item that you think your blog visitors might be interested in purchasing. Note: You can also link to a search results page. You are not limited to just linking to an individual product page!
3 – While on the sales page for the item you wish to promote (or on a search results page), take a look at the gray Amazon Associates menu bar near the top of the browser window. Find the "Get Link" section and click on the word Text, then copy the HTML code for the link and paste it into your blog post.
Here are a few tips for maximizing your Amazon affiliate commissions:
1 – Earn the trust and confidence of your readers before trying to earn your first affiliate commission. Do this by writing several interesting and informative posts that make the reader want to keep coming back for more.
2 – Use text links contained within the blog post itself, not a widget link provided by Amazon. By all accounts (and my personal experience backs it up), text links out-perform widget links many times over.
3 – Place your affiliate links above the fold (near the top of the post where they can be seen without scrolling).
4 – If you include an image in your post (and you really should), link the image to your affiliate link for the item you are writing about.
5 – Maintain the trust of your readers by writing accurate and complete reviews of the products you decide to promote. NEVER try to trick your readers into making a purchase just so you can earn a quick commission.
6 – Don't place affiliate links in every post you write. Every third or fourth post seems to work best. The key is to prevent your readers from believing that the only reason you write a blog is to make money. And if that IS the only reason you write your blog, it will most likely fail in the end because your heart won't be in it.
If you're wondering about when you'll get paid, you'll receive payment for your Amazon affiliate commissions two months after they are earned. For example, you'll be paid for commissions earned during the month of April at the end of June.
You will either be paid with cash (deposited directly into your bank account) or with an Amazon Gift Card that you can use to purchase items from Amazon. You'll have an opportunity to choose your payment method when you open your Amazon Associates account, and you can always change it at any time after your account is approved.
As you can see, earning money as an Amazon Associate is quite easy once you get a potential customer onto the Amazon website! Your job is to write blog posts and reviews that make the reader want to learn more about the product on the Amazon product page.
And now, a word of caution: If you choose to write product reviews, make the reviews reflect your true feelings and opinions about the products you're reviewing. If you like a product, say so – then explain why. If you don't like a product, say so – then explain why.
Your job as an affiliate marketer is not to earn a commission at any cost. Your job is to give your visitors reason to respect your opinions and have confidence in your recommendations. If you achieve that goal, you can count on making money as an Amazon affiliate.
However, if you earn a reputation as someone who is out to make a quick buck by recommending products that you don't really believe in, your career in affiliate marketing will likely be both non-productive and short.
Besides, who on earth would really want to make a living by misleading their friends? I don't, and I'm sure you don't either.
That being said, in order to succeed you'll need to make the products you DO believe in sound as good to your potential customers as possible while still keeping the review as accurate and on the up-and-up as you can. As long as you mention a products negatives, there's nothing at all wrong with tooting the horn on the positives.
As with everything else in life, the Golden Rule applies when writing about a product on your blog.
Always attempt to write posts and reviews that accurately describe the products and your true opinions of them. Anything else would be a disservice to your readers and eventually bring your affiliate marketing career to an end. And besides, you'll just sleep better at night.
Bottom line: While becoming a blogger and Amazon Associate is not a "Get-Rich-Quick" scheme, it IS a legitimate way to earn money from home working in your spare time and using your own computer.
Even better, you are not limited to just Amazon when it comes to earning money from your blog(s) and social media accounts.
Once you have established a reputation as a reliable, trust-worthy blogger you'll be able to join other affiliate programs and leverage the earning power of your blogs with Google Adsense, direct advertising deals and a myriad of other potential revenue streams.
The $1,000 per month figure mentioned above is only a ball-park figure. Depending on your aptitude for this type of work and your individual work ethic, you could make less or you could make a lot more.
In fact, thousands of bloggers make a full time living from affiliate sales and other revenue sources from their blogs and social media accounts. And yes, many of them have literally become rich by following their own variations of the simple step-by-step plan I explained above!
I wish you all the best. Good luck!
---