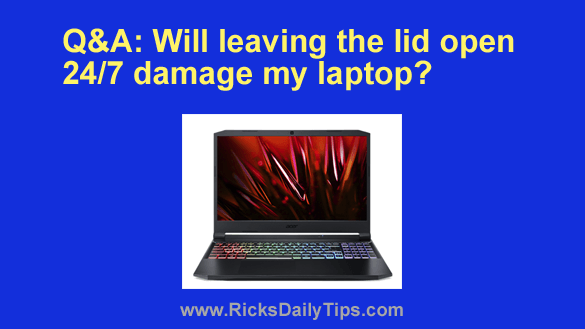 Question from Mark:  I have a four month old Acer Nitro 5 Gaming Laptop with a 32 inch ASUS gaming monitor connected and set as the primary display.
I use the 32 inch screen for my games. The laptop's built-in screen is always open with my email and a few other apps open on it.
What I need to know is could leaving the lid open all the time damage the laptop in any way? 
Rick's answer: Mark, you should be able to safely leave your laptop's lid open at all times with no worries.
Truth be told, never shutting the lid could actually make the machine last longer than it would otherwise since most of the wear and tear on the hinges (and the video cable that passes through one of them) occurs while you're opening and closing the lid.
It just so happens that I have a very similar setup with my work laptop. I haven't closed its lid in at least three years and everything is still working great.
The only downside to leaving the lid open 24/7 is extra build-up of dust on the the laptop's screen, keyboard and other exposed components.
Luckily, the dust issue is easily mitigated by simply blowing the dust off the exposed surfaces of the laptop with a can of compressed air on a regular basis.
I hope this helps, Mark. Good luck!
Update from Mark: It does. Thank you very much.
---