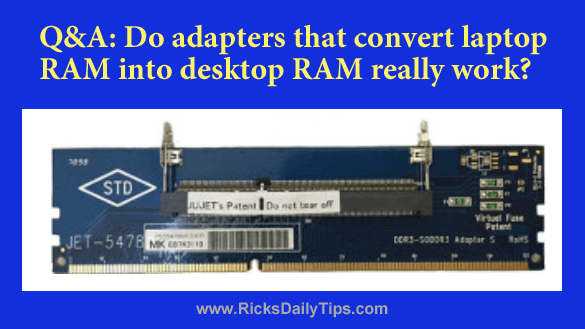 Click here to sign up for my free Rick's Tech Tips Newsletter!
---
Note: The links in this post are affiliate links.
Question from Andy:  Hi Rick. I have several pieces of laptop RAM that I've culled from broken laptops over the years.
I'd love to use a couple of those sticks to max out the RAM in my Dell desktop PC, but I need your advice first.
I know I can't just stick them in there because the laptop RAM is smaller and it won't fit into the open RAM slots.
But I did some checking around and found out that Amazon sells Laptop RAM to Desktop RAM adapters
.
The problem is hardly anyone seems to be buying them and the few reviews they have aren't all that great.
My question is do these adapters really work? I'd love to order a couple of them but I want to make sure they'll work and not damage my computer.
Rick's answer:  Andy, the answer to your question is yes, those adapters do work. In fact, I've use a couple of them myself for testing purposes and had no problems whatsoever.
That being said, they can indeed cause some serious problems if either of the following issues arise:
1 – The technical specs of the laptop RAM modules you're wanting to install in your desktop PC don't match the technical requirements of your PC's motherboard.
If you decide to give these adapters a try, you'll need to carefully analyze the specs of your specific laptop RAM modules to make sure they are compatible with the motherboard you're planning to install them in.
2 – You try to mix laptop RAM and desktop RAM in the same machine.
If you're able to determine that the laptop RAM is indeed compatible with your desktop PC's motherboard (which can be tricky if you don't know a lot about RAM specifications), I strongly recommend that you remove the existing desktop RAM and use ONLY laptop RAM modules that perfectly match one another.
Bottom line: Unless you can be absolutely certain that your spare laptop RAM modules are fully compatible with your motherboard (in terms of the specs, not their physical attributes), I recommend that you skip the adapters and buy more desktop RAM
that exactly matches the your PC's existing RAM. After all, RAM is relatively cheap these days.
Note: If you don't know what type of RAM your desktop PC uses, head over to Crucial.com and use their handy Crucial System Scanner.
Of course if this is an older PC that you feel comfortable experimenting with, you can always buy the adapters and give it a whirl. It might make for a fun and interesting experiment. But since you've already hinted that you don't want to take a chance on damaging your PC, I wouldn't recommend it.
I hope this helps Andy. Good luck!
---
Click here to ask me a tech question.