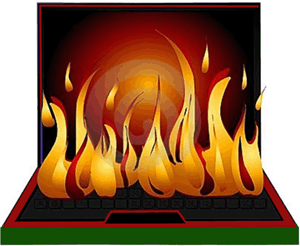 Like my tips?  Click here to sign up for my free Daily Tech Tips Newsletter and you'll never miss one!
---
Note: The links in this post are affiliate links.
Question from Summer G.:  Hi Rick. I'm really worried that my Acer laptop is going to burn itself out.
After it's been on for just a few minutes it gets so hot I can barely stand to touch the keyboard. And if I leave it on for as little as 15 to 20 minutes it shuts itself off.
What could be causing my laptop to get so hot? Thanks in advance for your help!
Rick's answer:  There are several possible causes for your laptop's overheating issue Summer, and since yours is getting so hot so quickly it might well be that more than one of them are in play.
As you probably know, overheating is a primary cause of premature laptop hardware failure, and it's very important that you get it taken care of before it completely ruins your machine.
One common cause of laptop overheating is a non-working fan. Check to see if the fan is running. If it is, you should hear it and feel air being blown out of the exhaust vent(s).
But even if the fan is running it could be running at a reduced speed, a situation that would prevent the fan from moving enough air over the laptop's internal components to keep them cool.
Another common issue is dust restricting the airflow around the motherboard and the laptop's internal components. If the fan is running but little or no air is coming out of the vent, that's a good sign that the internal airflow is being restricted.
If either of the aforementioned causes seem to apply to your laptop, I recommend that you stop using it immediately and take it to a shop for repair and/or dust removal.
Still another common cause of laptop overheating is malware running on your system. Viruses, spyware, adware and other types of malware put a heavy strain on the CPU and other components of your laptop. This causes those components to heat up, often to a point where the fan simply cannot move enough air over them to cool them down.
If you think malware might be causing the overheating, either follow the steps in this post to remove it from your system or take it to a computer repair shop and ask them to remove it for you.
And finally, there is one more very common cause of laptop overheating that is 100% preventable and extremely easy to fix…
As explained in this post, it's never a good idea to rest your running laptop on a bed, pillow, or other soft surface that can block the air vents in the bottom of the laptop case. I see this all the time, and it's truly a laptop killer!
Always place your laptop on a flat, hard surface whenever it's powered up and running. ALWAYS.
If you need to use it while sitting on a bed, couch or other piece of furniture, place it on a lapdesk or some other flat, hard surface. Even better, use a high quality laptop cooling pad.
Whatever you do, don't place your laptop directly on your lap!
I hope this helps Summer. Good luck!
---
Cick here to ask me a tech question.