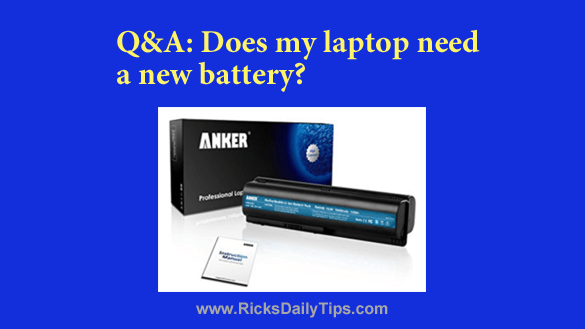 Click here to sign up for my free Rick's Tech Tips Newsletter!
---
Note: The links in this post are affiliate links.
Question from Corrine V.:  I have a 5 year old HP laptop that won't work anymore unless it's plugged into a wall socket.
The battery charge indicator is stuck on 2% charge and it won't charge any higher than that.
I thought laptop batteries were supposed to last longer than this.
Do you think I need to buy a new battery or could the charger maybe be bad?
Rick's answer:  I'm thinking you do need to buy a new battery for your laptop, Corrine. Depending how they are used and the initial quality of the battery, laptop batteries can either last several years or go belly-up within a year or less.
I seriously doubt that your laptop's power brick is bad simply because the laptop runs just fine when it's plugged into a wall outlet.
I believe a new battery will fix your laptop's charging issue. You can always buy a genuine HP brand replacement battery if you want, but you'll likely save some serious cash by going with a quality third-party battery instead.
I recommend the your check out the selection at Amazon. Simply type the following into the Amazon search box:
HP [model] battery
Be sure to replace [model] with the actual model number of your laptop. You'll likely be presented with a number of choices.
Reading the user reviews should help you choose a good one while still saving some money.
I hope this helps Corrine. Good luck!
Bonus tip: This post explains a simple trick for making your laptop's battery charges last longer.
---
Click here to ask me a tech question.