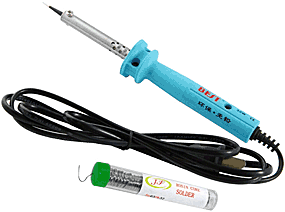 Question from Ron:  My Toshiba laptop seems to have an intermittent short in the motherboard power connector.
Most of the time it acts like the AC adapter isn't even plugged in, but if you wiggle the connector a certain way it will sometimes start charging the battery and the screen will get brighter.
I know the problem isn't a bad AC adapter because it does the same thing with my wife's adapter plugged in (we have identical laptops).
This laptop is only 14 months old (2 months out of warranty) but I don't want to spend almost as much as I could buy a new one for to get it fixed. I'm afraid it might need a new motherboard, but I'm hoping it's something a lot simpler and cheaper.
Do you think this can be fixed without laying out too much cash?
Rick's answer:  Ron, I think you just might be in luck. For whatever reason, some laptops cone from the factory with poor solder connections between the DC-in jack and the motherboard.
Based on your description of the problem, I have a feeling that's what's wrong with your laptop. If that indeed turns out to be the case, it should be a relatively easy and inexpensive fix.
If this was an older laptop with several years of use under its belt I'd suspect that the DC-in jack itself might be worn out, but it usually takes longer than 14 months for these types of connectors to wear out.
If you're really handy with a soldering iron (#ad) you can probably fix it yourself by popping open the case and re-working the solder joints holding the DC-in jack in place.
If not, your local computer shop can take care of it for you and it shouldn't cost you very much at all. Probably about an hour's worth of labor.
Even better, if you know a teenager who enjoys tinkering with electronics (and is good at it) you can probably get the job done on the cheap!
Please let me know how it turns out. Good luck!
Update from Ron: You were right, Rick. It was a bad solder joint. A friend of my daughter's from school fixed it for me.
The kid (actually a young teenager) only charged me $10, but I gave him a $50. You'd think I'd given him a new car!
Thanks for the advice. It really helped a bunch.
Bonus tip: Want to make sure you never miss one of my tips? Click here to join my Rick's Tech Tips Facebook Group!
---
Do you have a tech question of your own for Rick? Click here and send it in!
If you found this post useful, would you mind helping me out by sharing it? Just click one of the handy social media sharing buttons below.