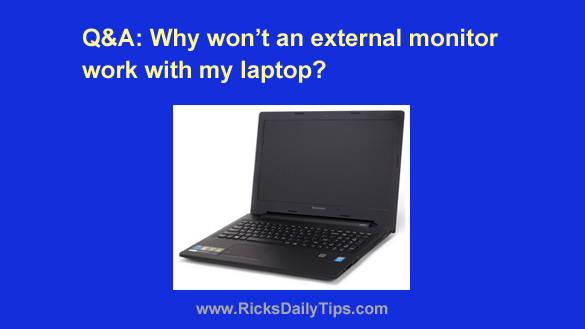 Question from Brenda M.:  I took my laptop to the shop because the screen stopped lighting up. They checked it out and told me the screen was bad.
They said it would cost almost $200 to replace the screen. I told them I couldn't afford that so they told me I could still use the laptop by hooking up an external monitor.
I bought a monitor a new monitor and hooked it up to the laptop with a VGA cable, but I can't get the monitor to show anything besides a blank screen.
How can I get the external monitor to work this laptop?
It's a Lenovo that has been upgraded to Windows 10 and the monitor is a Dell 23″ LED display.
Rick's answer:  Hi Brenda. Assuming that the video output circuitry inside the laptop is working as it should (surely the tech at the shop verified that it is), your new Dell monitor should work just fine with your laptop.
My guess is the laptop simply isn't set up to cast the video image to an external monitor. Here's how to set that up:
1 – Press the Windows+P key combination just once.
2 – Press the Down Arrow on the keyboard three times.
3 – Press the Enter key.
Assuming that your laptop's VGA port is still capable of outputting a usable video signal, you should now see the contents of the Windows Desktop on the external screen.
I hope this helps Brenda. Good luck!
Update from Brenda:  It worked Rick. Thank you so much!!
---
Never miss a tip!  Click here to sign up for my free Daily Tech Tips Email Newsletter!