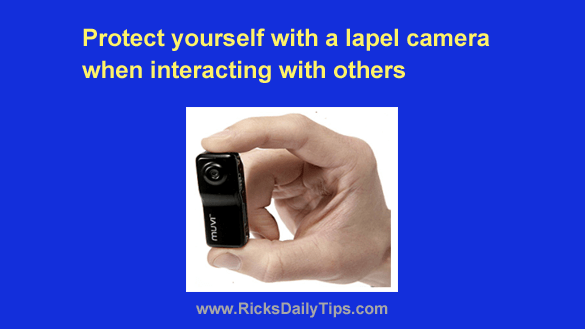 Note: The links in this post are affiliate links.
A while back I wrote a post explaining why it's a good idea to install an inexpensive dash cam in your vehicle, and it generated a lot of interest.
A few days later one of my Facebook friends messaged me to ask if there is a way to protect yourself by capturing video when you aren't in your vehicle because she frequently has to interact with people who get easily upset.
Luckily, the answer is yes. You can clip a small, unobtrusive body camera to your clothing and record audio and video of everything that's going on around you.
The typical body camera starts recording automatically when someone starts talking, and most of them will keep recording for 30-90 minutes (or until you stop it). Some models even date/time stamp the video.
These cameras are great for recording meetings and college lectures, or for simply documenting encounters with strangers or law enforcement officials. The potential uses are endless.
Just be sure to research your local laws for video and audio recording others without their permission.
In some states it is legal in all situations while in others your right to record interactions with others is limited. Your local police department should be able to give you the answers you need.
For example, in my home state of Virginia, only one party needs to know you are recording, and that party can be you.
Bottom line: Body cameras offer about the same level of protection as dash cams, no matter your location or what you might be doing.
Click here to check out my favorite inexpensive body camera at Amazon.
---