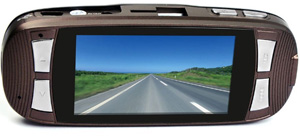 Most police cruisers have been equipped with dash cams for years, and they have helped countless officers prove that the actions they took during traffic stops were legal and proper.
Dash cams are also now commonly used by truckers as a tool for protecting themselves from fraudulent accident claims.
These handy cameras are now widely available to the general public, and they are surprisingly affordable. In fact, quality dash cams start at less than $50 (#ad) on Amazon. 
A good dash cam will record virtually everything that you can see from your windshield, and some models will even record audio to go along with it.
If, as they say, "a picture is worth a thousand words", then video is surely worth a million.
In many jurisdictions the video and audio recorded by a dash cam during a traffic stop or automobile accident can be used as evidence in court to either help prove your innocence or another party's guilt.
Either way, you'll feel a lot better knowing that you'll be able to back up your side of the story with video proof.
Be aware that while dash cams are completely legal virtually everywhere in the United States, some states and localities have restrictions on a camera's size and placement.
Bottom line: Installing a dash cam in your vehicle is a great way to protect yourself if you get pulled over by the police or someone tries to pin the blame for an accident caused by someone else on you.
Click here
(#ad) to check out the great selection of affordable dash cams available from Amazon.
Bonus tip: An inexpensive lapel camera can help prove your case if you're ever involved in a dispute about a personal interaction you had with others. Read this post for more info.
Bonus tip: Want to make sure you never miss one of my tips? Click here to join my Rick's Tech Tips Facebook Group!
---
Want to ask Rick a tech question? Click here and send it in!
If you found this post useful, would you mind helping me out by sharing it? Just click one of the handy social media sharing buttons below.