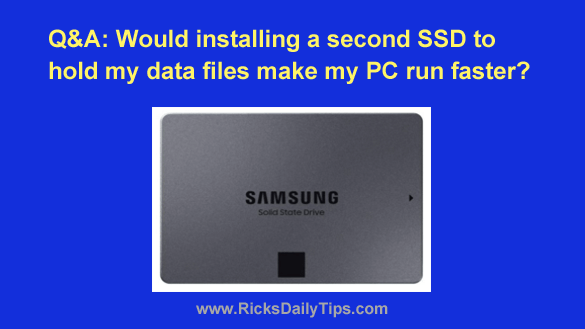 Note: The links in this post are affiliate links.
Question from Larry:  I remember reading something a while back about using two SSDs instead of one to speed up a computer but I can't remember the details.
I was in a hurry when I read it so I didn't pay as much attention as I should have.
I think it had something to do with putting Windows and the installed programs on one SSD and all the data files on the other one.
Can you fill me in on the details? 
My PC's hard drive died last year and I replaced it with an SSD. Just trying to decide whether I should install a second one to speed things up even more.
Rick's answer: That's a great question Larry, and the answer is a definite "maybe".
As I explain in this post, replacing a computer's hard drive with an SSD will definitely enhance its performance and make using your computer more enjoyable.
However, adding a second SSD just to hold your data files won't affect the overall speed of the system in any noticeable way unless the second SSD utilizes a different (i.e. faster) data transfer technology than the one used by the existing SSD.
For example, if your system already has a standard SATA III SSD installed, adding a second one that's similar won't make the system run any faster (or even appear to make it run faster).
However, if instead of adding a second SATA III SSD you were to opt for a faster type of SSD (an M.2 NVMe SSD, for example), that would indeed speed things up when that particular drive was being accessed.
Just be aware that you'd need to install the faster SSD as the boot drive (i.e. the C: drive) in order to really take advantage of its faster I/O speeds.
Simply adding a second SSD and moving your data files onto it probably wouldn't make any noticeable difference at all, even if that second SSD was a faster model.
Now all of the above being said, adding a second SSD just to hold your data files would definitely have a different benefit however: Reduced odds of data loss due to a drive failure.
If the first SSD (i.e. the boot drive) were to fail you wouldn't lose your data files right along with the operating system and programs if they were being stored on a different drive.
All you'd have to do to recover from that drive failure would be install a new SSD in place of the bad one, then reinstall Windows and your programs on it from scratch.
That would give you a squeaky-clean fresh installation of the operating system and your programs.
Now just go into your programs' settings and tell them to look on the other SSD for the data files and you'll be right back up and running as you were before!
Of course you'd still lose your data files if the drive holding them was the one to fail, but you can easily eliminate that danger simply by making frequent backups – something we should all be doing anyway.
I hope this helps, Larry. Good luck!
---
Never miss a tip!  Click here to sign up for my free Daily Tech Tips Email Newsletter!