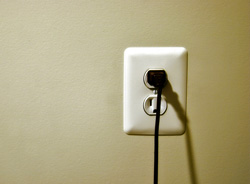 Question from Chris E.: Hi Rick. I've asked this question of several people who should know and received conflicting answers.
I guess this is one of those things that boils down more to opinion than science.
I've been reading your blog for quite a while now and I think you really know what you're talking about, so I thought I'd ask your opinion on it.
So here's the question: Is it safe to leave my laptop plugged into a wall outlet for extended periods of time even when the battery is fully charged? 
Rick's answer: Thanks for the kind words Chris. To answer your question, it's fine to leave your laptop plugged in even when the battery is fully charged.
When plugged in, the laptop receives its power from the wall outlet and the battery in effect serves as a "Battery Backup Device". Once modern laptop batteries reach their maximum charge level, they stop receiving "juice" from the charger.
That being said, there are a couple of things to consider:
1 – I strongly recommend that you keep your laptop's charger plugged into either a high quality surge suppressor or battery backup unit in order to protect both the laptop and charger from power surges.
Note: If you opt for a battery backup unit you'll have extra time to use your laptop in the event of a power outage since the laptop will run from the battery backup device until it dies, then switch over to its own internal battery.
2 – Any time your laptop's charger is plugged into an outlet it is drawing power, even when the laptop is turned off.
If you're budget-conscious you might want to unplug the charger when the battery is full and the laptop is turned off in order to save money on your electric bill. The current draw is quite minimal however, and the "savings" will be as well.
I hope this helps Chris. Good luck!
Bonus tip #1: This post explains how to save battery life by hibernating your laptop instead of putting it to sleep.
Bonus tip #2: Want to make sure you never miss one of my tips? It's easy! Just…
Click here to sign up for my free Rick's Daily Tips Email Newsletter!
---
Would you like to ask Rick a tech question? If so, click here and send it in!
If you found this post useful, would you mind helping me out by sharing it? Just click one of the handy social media sharing buttons below. Thanks a bunch!
Photo credit: Aaron Beall