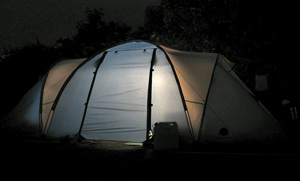 Question from Eileen J.:  Hi Rick. My husband and I are planning a three day camping trip in the Alabama woods for a little over a month from now.
I know I'll end up spending a lot of time Facebooking and playing games on my iPhone while we're there because I always get bored after just a couple of hours.
My problem is my phone's battery always dies on the first day and I don't have a way to charge it back up. Can you tell me the best way to keep it charged for the entire three days without having to spend an arm and a leg?
We'll have a usable cell signal where we're going, but we won't have an electrical outlet to plug a charger into or handy access to our vehicle for using a car charger. Thanks for any advice you can give me.
Rick's answer:  You have several options available to you Eileen, and none of them will set you back a ton of money:
1 – First, if you or your husband are willing to carry it to and from your campsite, a battery backup unit like the ones you plug a computer into would keep your iPhone charged for the entire duration of your trip. This one (#ad) would make an excellent choice. Just make sure it's fully charged when you leave your home and head to the campsite.
After you get your campsite set up, place the battery backup unit inside your tent to keep it dry until you need it. When your phone battery gets low, just plug it into the battery backup unit using your regular wall charger. The only real downside to this approach is the fact that a battery backup unit is relatively heavy and it might be difficult to carry to your campsite.
2 – Another affordable option for keeping your phone charged throughout your camping trip is to get yourself a solar charger.
A solar charger would keep your phone charged long after the three days you mentioned, but in order for it to work effectively your campsite would have to receive plenty of sunlight, something that might be hard to come by out in the woods.
3 – Your last (and in my opinion best) option is to purchase a high-capacity external battery pack for your iPhone.
This is the option I would choose if I were you because an external battery pack is a LOT smaller, lighter and easier to carry than a battery backup unit and you won't need a ton of sunshine to power a solar charger.
There you have it Eileen. Either one of these options should work for you, but if you asked me for a specific recommendation I'd personally recommend option #3.
Good luck, and enjoy your camping trip!
Note: Image courtesy of Christian Nielsen.
---
Do you have a tech question of your own for Rick? Click here and send it in!