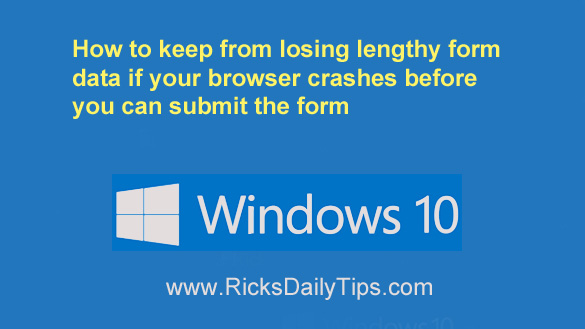 Have you ever typed a lengthy email, blog post or other type of form entry, only to lose what you had written because your browser crashed, you clicked the wrong button or the web page timed out?
I sure have, and I can tell you that it's no fun having to re-type everything!
Luckily, there's a fast and easy way to prevent this from happening to you:
Simply copy the contents of the text box to your Windows Clipboard before you click "Send", "Post" or whatever button you need to click to complete the action at hand. Here's how: 
1 – Right-click anywhere inside the form window or text input box.
2 – Click Select all on the context menu that pops up.
Note: Depending on the situation, you might not see a "Select all" option on the context menu. When that happens you can simply highlight all the text with your mouse.
3 – Right-click on the selected block of text, them click Copy.
That's all there is to it. Now, if something goes wrong and you find yourself staring at an empty text input box before you have successfully completed your task, you can simply paste the info back into the box and try again. Here's how:
1 – Right-click anywhere inside the empty form window or text input box.
2 – Click Paste.
Presto! The info you had typed before is now sitting in the text box once again, waiting for you to try to complete the action again. Depending on the content in question, some formatting information might be lost, but that's easy to fix compared to typing everything back in from scratch!
There is one caveat to this method that I must mention: You can't copy the contents of multiple form fields to the Clipboard. You can only copy the contents of one field at a time.
That means if you're filling out a form with several fields in it you'll need to choose the field that contains the most text/data and copy that information to the Clipboard.
If something goes haywire before you have a chance to submit the form you'll have to re-populate all the other fields from scratch.
But at least you'll be able to simply paste the contents of the field with the most info in it instead of typing it all in again!
By the way, if you're a Mac user you can copy the contents of a form field to your Clipboard as well.
Simply use the Command+C key combination to copy the selected text and Command+V to paste it.
Alternatively, you can use the Copy and Paste tools that are available via the Edit menu!
Bonus tip: This post offers several handy keyboard shortcuts that can make you a lot more efficient at using your computer.
---
Never miss a tip!  Click here to sign up for my free Daily Tech Tips Email Newsletter!