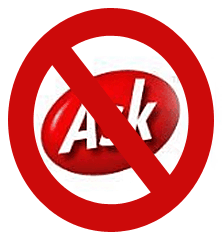 For years now the irritating Ask Toolbar has been installed along with Java updates on Windows PCs by default, but Mac users have always been able to update Java without this unwanted adware download tagging along.
Well, that has now come to and end. If you aren't careful, the next time you update Java on your Mac you'll end up with the Ask Toolbar as well.
The Ask Toolbar is considered by most people to simply be adware, but in my opinion it is full-blown malware, for the following reasons: 
1 – It is almost never installed on a computer intentionally. The vast majority of installs are the result of "drive-by downloads" where it comes bundled with other legitimate software installations. Most people who end up with the Ask Toolbar don't even know it exists until they see it stuck to the tops of their web browsers.
2 – It changes your home page and default search providers without your knowledge. Yes, I know there is usually a disclaimer somewhere that says Ask will make those changes, but the disclaimer is typically either hidden outright or displayed in a manner that makes it easy to miss.
3 – The average computer user will find it extremely difficult to remove. Many folks find that once the Ask Toolbar is on their system, it's on there forever because they simply cannot figure out how to get rid of it.
All of that being said, it's actually quite easy to avoid installing the Ask Toolbar along with Java, but you have to be extremely careful during the install process. Just be sure to uncheck any boxes that give the Java installer permission to install the Ask software and make changes to your web browser.
One last thing: If you do end up with the Ask Toolbar installed on your system (or if it's already there), you can easily get rid of it with a wonderful free tool called AdwCleaner.