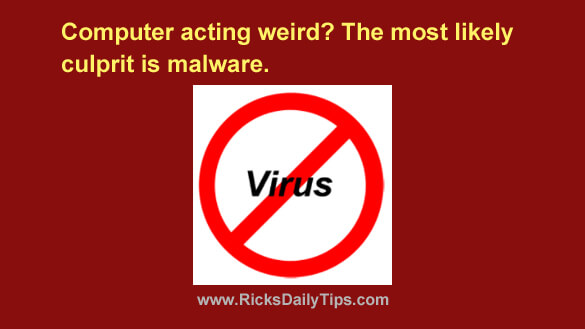 Has your computer started acting weird all of a sudden? For example…
Do web pages take forever to load or are you getting pop-ups every time you breathe?
Is your web browser covered in toolbars?
Has your home page or default search engine been mysteriously changed without your permission?
If you answered yes to any of the above questions, your PC is probably infected with malware. 
Back in the early days of personal computing, when something strange started happening with your system it made sense to suspect a hardware issue instead of a software problem.
But these days, malware is so pervasive that it should be the first possibility that pops into your mind any time something goes wrong with your PC.
Here are just a few of the problems/symptoms that are frequently caused by malware infections:
Unwanted toolbars and browser extensions
Sluggish computer performance
Difficulty connecting to the Internet
Ability to connect only to certain websites with other sites unreachable
Redirects to sites other than the ones you intended to visit
System overheating/fans constantly running at full speed
Programs won't load or they crash frequently
Critical Windows utilities such as Control Panel, Settings app, Task Manager or System Restore won't load or operate correctly
Antivirus app won't open or it's incapable of downloading updates
You start getting spam emails hawking products that you recently viewed on shopping websites
If you begin to notice one or more of these symptoms (they sometimes come in bunches), I recommend taking steps immediately to check for malware and completely remove it from your system.
Viruses, trojans and spyware can cause a lot more harm than just making your computer harder to use.
Worse still, ransomware can ruin your entire digital life (and possibly your financial life as well). That's why you need to get it off your system as soon as possible.
This post explains how to completely rid your PC of malware, step by step.
Bonus tip: The best insurance against any serious malware attack is always having a recent backup on hand. Click here to learn how to create a System Image Backup right now.
---