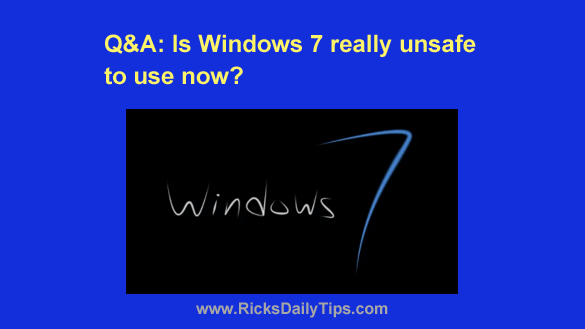 Question from Luisa:  I'm hoping you can clear something up for me.
I've heard some people say we need to stop using Windows 7 now that Microsoft has stopped updating it because it's no longer safe.
Others are saying it's perfectly fine to keep using it as long as the computer has an antivirus on it.
This is really confusing to me.
My HP laptop is old but it still works fine even though it has Windows 7 on it. I really hate the thought of having to replace it, but I will if it's really unsafe to use.
Rick's answer:  Luisa, it seems that everyone has an opinion about this, and I certainly have one as well.
My short answer to your question is no, Windows 7 is no longer safe to use.
And yes, that includes machines with high-quality antivirus programs installed on them.
Now, here's my long answer…
Whether your Windows 7 laptop is safe to use really depends on what you use it for.
If you use your laptop for all the normal everyday things that most people use their computers for (banking, bill paying, online shopping, social media, etc.), then the answer isn't just no.
It's a resounding NOOOOOOO!!!!!!!!!!!
The reason I say that is malware is only one of several dangerous threats facing every computer that's connected to the Internet.
Hackers also seek out and exploit security flaws in a computer's operating system itself.
And trust me, there are always plenty of flaws to find, and it's only a matter of time before the next serious one is discovered and exploited by the bad guys.
No antivirus or other type of security app is perfect. The best of the lot routinely miss some malware infections, usually right after a new virus or other exploit is released onto the Internet at large.
What's more, even if someone were to magically come up with a security app that was indeed perfect and fully capable of detecting and stopping every nasty coming its way that still wouldn't prevent a hacker from exploiting a serious security flaw in the operating system.
Think of this in terms of the medical profession…
Let's say doctors specializing in the detection and treatment of cancer were to somehow become so good at their craft that they were able to achieve a 100% success rate at detecting and treating cancer.
That would be amazing because no cancer patient would ever have to worry about dying from that disease.
However, as amazing as those doctors would be at fighting cancer, they wouldn't be able to do very much to help patients suffering from a severe heart ailment.
Now that I've explained why just having a good antivirus program running on a Windows 7 PC won't make it safe to use for everyday computing activities, I'll tell you when that same machine would be perfectly safe to use.
You didn't mention what you use your Windows 7 laptop for so I can't really give you a definite answer that applies to your specific situation.
I can say this however…
If you use your computer for banking, paying bills, online shopping or accessing any website that require you to enter any type of sensitive information (including usernames, passwords, email addresses and phone numbers) then I would strongly recommend against using that machine as long as Windows 7 was installed on it.
However, if all you do is visit websites anonymously, play games or do most any other activity that doesn't require you to log in or enter any type of sensitive information, then you can safely use that laptop all day long.
Why? Because if there is no sensitive information for a hacker to steal, you don't really have to worry about the machine being hacked.
It's really that simple. And now, one final thought…
Just because it might be unsafe for you to use your laptop with Windows 7 on it (again, depending on what you use it for), that doesn't mean you necessarily have to buy a new computer with Windows 10 on it.
You do have a couple of much cheaper options to consider…
1 – You could upgrade the laptop to Windows 10. (#ad)
2 – You could replace Windows 7 with Linux (for free).
I hope this helps, Luisa. Good luck!
---
Never miss a tip!  Click here to sign up for my free Daily Tech Tips Email Newsletter!