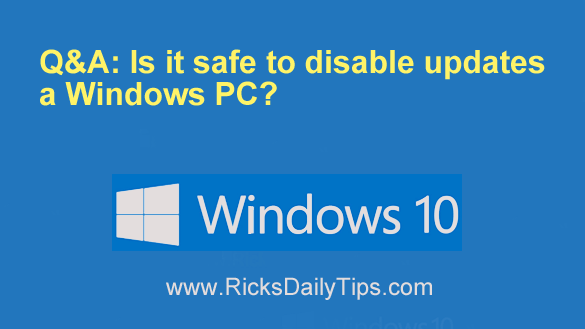 Question from Michael:  I recently bought a new desktop computer with Windows 10 on it to replace the Windows 7 machine I've been using for the past six years.
I rarely had any problems installing Windows Updates on the old computer but it seems like the updates for Windows 10 are filled with bugs or something.
Almost every time I install an update something goes wrong. The last time it happened my nephew had to completely reinstall Windows for me.
I'd like to completely disable the installation of updates on the new PC. Is it safe to do that? I've received several conflicting answers to that question.
Rick's answer: I can certainly understand your frustration with the update process for Windows 10, Michael. I happen to share it.
In fact, I recently wrote an entire blog post complaining about how the Windows 10 update procedure needs a lot of work.
The answer to your question depends on how you plan to use your new computer…
If you plan to never connect your computer to the Internet or install new software on it you can safely disable Windows Updates and never look back.
And believe it or not, there are a few folks out there who do use their computers without an Internet connection for one reason or another.
However, if you plan to connect the machine to the Internet (even if it's only once in a blue moon) you definitely need to keep Windows Updates enabled in order to keep all the security holes that are discovered on a regular basis "patched up".
Connecting a Windows device with unpatched security holes to the Internet is like driving your car through a car wash with all the windows rolled down. It simply won't end well.
Unfortunately, the hackers of the world are constantly using special software to probe Internet-connected devices for security holes they can exploit.
And when they find one they exploit it to the max by installing malware on the device and/or stealing any personal and financial information that's stored on it.
Of course there are no guarantees when it comes to computer security. Even fully patched and virus protected systems get compromised on occasion.
But a machine that has all the latest security updates installed along with a good antivirus program is many times less likely to fall victim to a hacking or malware attack.
Bottom line: If you're sure you'll never connect your new PC to the Internet at any time for any reason and that you'll never install software that needs to connect to the web, feel free to disable Windows Updates with no worries whatsoever.
But if you do plan to use the Internet with this machine or install a new program at some point in the future I strongly recommend that you keep allowing future updates to be installed and simply deal with any issues that arise as a result.
Bonus tip: As mentioned above, even a fully patched and protected PC can potentially get a virus infection. If that ever happens to you this post has step-by-step instructions for removing it.
---