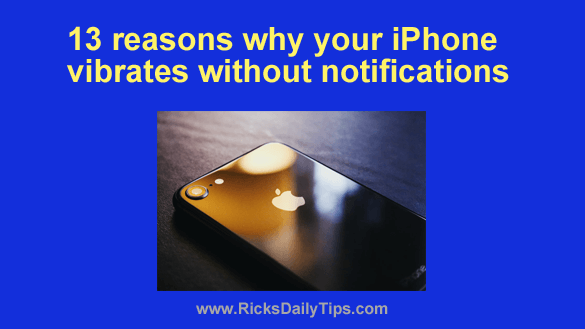 The iPhone has become an indispensable part of modern life. Whether you're a businessperson, an artist, or a student, it's the go-to device for staying connected and getting things done.
But what happens when your iPhone is vibrating without any notifications? If you know how to silence notifications on iPhone and have done it, the vibration can be a bit confusing and even worrying.
Truth be told, there are several possible explanations for this problem: 
1 – You've enabled "Haptics" in the Accessibility settings. This setting vibrates the phone when you touch certain elements on the screen or when you receive incoming calls and messages—even if you don't get a notification sound or badge alert.
To disable this feature, go to Settings > Accessibility > Touch > Haptics > Off.
2 – You have an application that uses haptic feedback technology built into it. Some apps use vibrations to alert users about certain activities within the app itself—such as video conferencing services or chat applications—without sending notifications to the lock screen or home screen.
In this case, disabling haptic feedback in your app's settings should stop the vibrations.
3 – The phone is connected to Bluetooth-enabled devices like speakers, headphones, and smartwatches that may be programmed to trigger vibrations when certain events occur (such as receiving a call).
These devices need to be disconnected before the vibrations will stop occurring on your phone.
4 – Your Apple Watch is set up with haptics enabled on its own end—either through its built-in Haptic Engine or with third-party apps—and is remotely triggering vibration alerts on the smartphone rather than sounding notification tones or displaying warnings on its own display screen (assuming it's within range).
5 – A system feature called "Reachability" triggers brief vibrations each time you double tap (not press) the Home button in order to make it easier for users to reach various elements at the top of their screens with one hand instead of two hands (or one finger instead of two fingers).
This feature can be disabled by going to Settings > General > Accessibility > Reachability and toggling the "Vibrate When Reaching" setting to Off.
6 – A game that uses vibration feedback technology might also be causing your phone to vibrate without visible alerts or sounds (especially if you have headphones plugged in with haptic feedback capabilities as well).
Check your game settings and/or find out if there's an updated version of the software available, which may include bug fixes related to vibration feedback issues specifically affecting iPhones that are making them buzz without sending out any alert notifications at all times regardless whether headphones are plugged in or not.
7 – Notifications from social media apps like Twitter and Facebook can cause occasional vibrations even when they're not set up to send out audible tones or badges on the Home Screen / Lock Screen.
This could happen if those apps are already open in memory but not currently active on screen – check their individual settings, as some offer a 'vibrate only' mode, which can be turned off manually.
8 – Location-based reminders set through Apple's Reminders app can trigger short bursts of vibration even though no text message appears associated with them.
Make sure that the Reminders app isn't running in the background if you want these types of notifications stopped entirely.
9 – The iPhone has its own internal energy-saving mode called Low Power Mode, which sometimes reduces visual alerting mechanisms while still allowing vibration feedback.
Ensure that the Low Power Mode is disabled under Settings > Battery.
10 – Vibration patterns can also occur due to user interaction with certain buttons, such as volume control buttons. Disable these patterns under Settings > Sounds & Haptics.
11 – A large number of tasks running simultaneously can cause random spikes in battery consumption and other CPU usage instances, which may lead to unexpected periods where one feels their device vibrating from time to time.
Uninstalling unnecessary applications should help reduce such occurrences.
12 – Buggy software updates installed onto an iOS device often come with hidden bugs that randomly cause vibration throughout usage. Uninstallation of such updates should fix these problems.
13 – Lastly, hardware damage caused by dropping one's device onto hard surfaces is another potential cause for unexpected vibrations due to loose connections inside – taking your smartphone to an authorized repair specialist should identify such issues quickly.
Closing Thoughts
In conclusion, random bouts of vibration from iPhones often have simple explanations that can easily be resolved by adjusting settings and disabling features within both hardware and software components.
However, more serious cases should always involve professional assistance when needed.
---