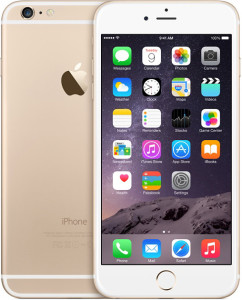 Question from Gracie:  The touch screen on my iPhone 6 Plus has started freezing up on me at random times.
There doesn't seem to be any kind of pattern as to when the issue arises. The screen just stops responding to taps and swipes on occasion. It will usually start working again after a few minutes if I just leave it alone and don't touch it.
This is really irritating because I can't even answer a call if it comes in when the screen is froze. Can you tell me how to fix it?
Rick's answer:  Gracie, the iPhone 6 Plus is a fantastic phone, but its touch screen has definitely been known to have some issues.
Most of those issues are temporary and/or can easily be fixed. I'm going to give you three things to try in order to resolve your touch screen problem.
First, I suggest giving your phone's screen a thorough cleaning with a quality screen cleaning wipe. There are plenty of them on the market, but I use and recommend these wipes that are made by Endust.
I know that cleaning the screen might sound like a crazy solution to an intermittent problem like this, but it indeed helps more often than not.
Over time, oils from your skin can combine with dust and other forms of "dirt" to form a layer of grime on your screen.
That layer of grime can prevent your phone's screen from detecting light taps and swipes, even if the layer is so thin you have trouble seeing it. If that's the case with your phone, a good cleaning might be all that's required to fix your problem.
If the touch screen still becomes unresponsive after you have cleaned it, the next thing to try is a simple soft reset.
To perform a soft reset on your iPhone 6 Plus, simply press and hold the Sleep/Wake and Home buttons at the same time until the Apple logo appears, then release them. The phone will restart, after which your screen issue will hopefully be resolved.
If a soft reset doesn't help, it's time to try a hard reset. Since a hard reset will restore your phone back to its factory default settings, I recommend backing everything up before initiating the hard reset procedure.
After you have everything backed up, follow these steps to perform a hard reset on your iPhone 6 Plus:
1 – Tap Settings.
2 – Tap General.
3 – Scroll to the bottom of the settings screen and tap Reset.
4 – Tap Erase All Content and Settings.
5 – Tap Erase iPhone. The process of restoring your phone back to its factory condition will now begin.
6 – Wait for the process to complete. You'll know it's finished when you see the same "Slide to set up" welcome screen that you saw the first time you set up your iPhone 6 Plus.
Hopefully one of the three procedures outlined above will fix your phone's touch screen issue Gracie. But if none of those suggestions seem to help, you'll need to take your phone in to a service center and have it checked out. Good luck!
Update from Gracie:  Cleaning the screen seems to have fixed the problem Rick. It's been almost 2 days without a freeze-up! Thanks for your help!
Note: The link in this post is an affiliate link.