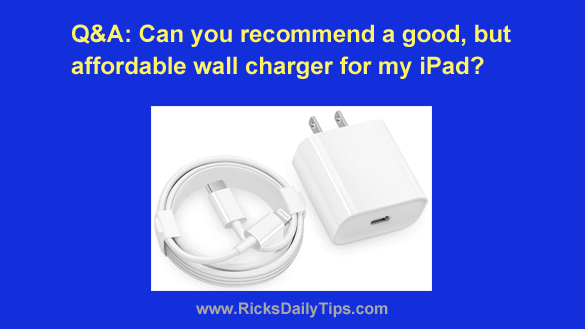 Note: The links in this post are affiliate links.
Question from Denise O.:  I recently returned home from vacation and discovered that I'd left the charger for my iPad in our hotel room.
I know I had it at the hotel because I used it there, but when I called the hotel they said it wasn't there. I guess I'm gonna have to buy one.
Can you recommend a good, but affordable replacement iPad charger?
I'd love to find one that works well and won't damage my iPad, yet costs as little as possible (is that too much to ask? lol).
Rick's answer: Hi Denise. I know how easy it is to accidentally leave an important piece of equipment behind when you return home from vacation. I'm sad to say that I'm the king of "forgetfulness".
To answer your question, I can recommend an excellent replacement charger for your iPad.
This little gem from Juusmart will supply more than enough charging current to quickly charge charge your iPad as well as most other portable devices including iPhones, iPods and Android devices.
You won't have to worry about this charger damaging your equipment or ruining your batteries thanks to its overcharging protection, but it is plenty powerful enough to quickly and efficiently charge your devices whenever they need charging.
Even though this particular charger will only cost you about what'd have to pay for a couple of meals in a fast food joint, it's a fantastic charger and I believe it'll do an outstanding job for you.
I honestly don't think you'll find a better deal on an iPad charger anywhere.
Click here to read more about the Juusmart USB-C Fast Charger on Amazon.
Update from Denise: This one looks perfect, Rick. I just ordered one. Thanks for your help!
---
Never miss a tip!  Click here to sign up for my free Daily Tech Tips Email Newsletter!