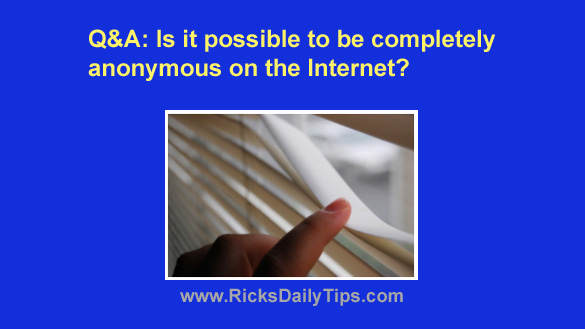 Question from Lawrence:  I have a very simple question for you Rick.
Is it possible to be completely anonymous on the Internet?
Here's the scenario that I have in mind: 
A laptop is purchased with cash from a stranger after answering an ad in the local newspaper
No personal info at all is stored on the machine
The laptop is used online via open Wi-Fi hotspots only while using a VPN
All Internet access is through anonymous open proxy servers with the browser in incognito mode
Just curious – do you think this scenario will prevent everyone from being able to trace the Internet usage back to the user?
Rick's answer:  It seems like you've put a lot of thought into this Larry, and the answer depends on who you consider "everyone" to be.
If by "everyone" you mean your family, friends, co-workers, etc., the answer is most likely yes.
The steps listed above would cover your tracks pretty well as long as you don't log into any websites or do anything else online which could inadvertently reveal your identity.
That being said, if "everyone" includes law enforcement and certain government entities then I wouldn't count on it.
Those folks have tools and methods for tracking people down that aren't available to the general public, and they are VERY good at tracing "anonymous" Internet activities and using other non-technical methods of finding persons of interest.
Bottom line: If you're wanting to play a simple harmless prank on a friend, the steps listed above would probably work quite nicely.
But if you have anything devious in mind (and I'm certainly not implying that you do) you'd probably be pushing your luck because when it comes to the Internet, complete anonymity simply doesn't exist.
Update from Larry:  Thanks for your perspective, Rick. I don't have anything nefarious in mind lol. This is just something that I've been wondering about.
Bonus tip: This post explains why browsing in 'Incognito' mode will not keep your online activities secret.
---