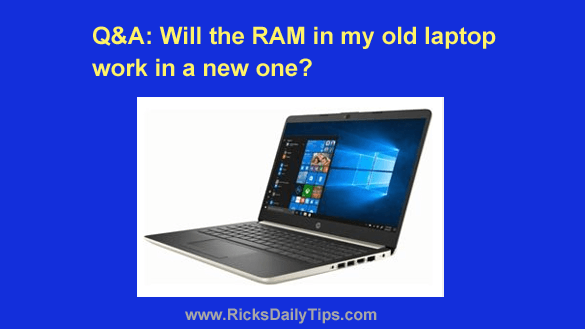 Note: The links in this post are affiliate links.
Question from Mike T.:  The screen in my laptop went bad and I'm getting ready to buy a new one.
The old machine is a Dell Inspiron 14 5000 that I bought back in January 2015.
Since the old Dell has 16GB of RAM in it I was wondering if it's possible to buy a new laptop with just 4GB of RAM and then swap the RAM from the Dell into the new laptop?
I'm on a pretty tight budget and that would save me some money if it's possible to do it.
Thanks for your help on this!
Rick's answer: I hate to be the bearer of bad news Mike, but I'm afraid the answer to your question is no.
Your old Dell laptop uses DDR3 RAM, which is no longer used in new computers.
Most any new laptop you purchase nowadays is virtually certain to use DDR4 RAM.
That means you won't be able to use the RAM from the old Dell laptop in it (DDR3 and DDR4 RAM sticks are completely incompatible with one another).
Now that we have the bad news out of the way, here's a bit of good news…
Compared to the prices of RAM in times past, RAM sticks are relatively cheap these days.
If you decide to go ahead and purchase a new laptop with 16GB of RAM already installed, the "premium" you'll have to pay for the upgrade from that model's base amount of RAM to 16GB will be a lot less than the extra amount you paid to get 16GB in your old Dell!
Bottom line: Newer (and faster) generations of RAM are released every few years, and they are never backwards-compatible with previous generations.
While it's unfortunate that you typically can't re-use older RAM in new computers, I believe the increased speed and capabilities of the latest RAM make the trade-off worth it (especially given the current relatively low price of RAM in general).
---
Never miss a tip!  Click here to sign up for my free Daily Tech Tips Email Newsletter!