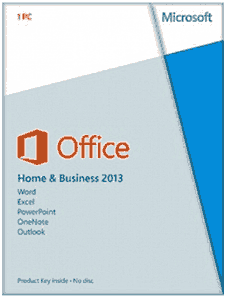 Question from Margo S.:  My husband gave me a Gateway desktop computer for Christmas to replace the ancient Dell that I use to run my pottery shop along with a boxed copy of Microsoft Office Home and Business 2013 to install on it.
On December 26 I unpacked the new PC and set it up, then installed Office on it. After using it for a couple of days I found out that it has a hardware issue and I'm going to have to return it.
I have a concern that I'm a little worried about. Since I have already installed Office on the new computer, will I still be able to install it on the replacement computer that I'll be getting too?
Rick's answer:  Yes Margo, you'll be able to install your retail copy of Microsoft Office onto your replacement PC with no problems at all. Just be sure to uninstall the software from the computer you have right now before you return it.
When you're ready to install Office on the replacement PC, just enter the Activation Code when prompted. It'll probably activate successfully right away, but if not you can simply call Microsoft at the phone number provided and they should fix you up in no time flat!
---
Do you have a tech question of your own for Rick? Click here and send it in!
Need expert computer help? Click here to read about the services that I provide.