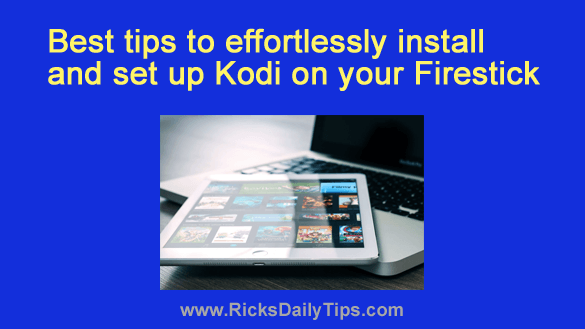 Kodi is a hugely popular media player that runs on devices like Android TVs, phones, PCs, Firesticks, and more. You can use it as an app to stream content offline or to use local storage.
You can use several apps and add-ons through Kodi. These apps and add-ons can be official and verified or unofficial and unverified. They can also allow you to stream content for free.
Installing Kodi is no easy task, but these tips can help you install and set up Kodi with as little effort as possible. 

How is installing and setting up Kodi different?
Installing and setting up Kodi are two different things. Installing Kodi is similar to installing apps on your PC or phone, but it follows a different process. On the other hand, setting up Kodi is customizing it the way you want.
Setting Up Kodi is more complex if you do not follow an easy-to-understand guide or use a good Kodi Build. A Kodi Build is a pre-loaded software with some of the best add-ons for Kodi, settings, skins, and more. It saves you from all the hassle you would experience installing Kodi yourself.

Installing Kodi
You can install Kodi by using ES File Explorer or the Downloader app. Kodi is a legal app, but it is unavailable at the Amazon store. However, both previously-mentioned apps allow you to install third-party apps on the Firestick with some changes in settings.
Changes in settings will be the same for both apps:
1 – Open the Settings tab of your Firestick and click on the My Fire TV option.
2 – Go to the Developer options tab.
3 – Click on the ADB debugging option and turn it on, and do the same with the Install apps from unknown resources option.
Note: You will not find any app under the install apps from unknown resources option yet because you do not have one at the moment.
4 – You might also want to turn off two more options from the settings tab: Collect app usage data and Device usage data.
You can find them both under the "Privacy Settings" tab, which will be under the "Preferences" tab.
Perform these changes before using any app to sideload Kodi on your Firestick.

ES File Explorer
I suggest using this app only if you have a premium subscription. This app does not allow sideloading third-party apps without a premium subscription. You can use the Downloader app, which is free, and you won't have to pay anything to sideload third-party apps on your Firestick.
Here is how to install and use the ES File Explorer app.
1 – After applying all the settings I mentioned above, install the ES File Explorer app from the Amazon store.
2 – Launch the application and find the Downloader icon on the right side of the screen.
3 – Click on the New button and add the .apk link of any app you want to install (Kodi in this case).
4 – A final reminder to apply the settings I mentioned in the "Installing Kodi" section.
5 – Click on the Download Now button and install Kodi.
That's all there is to it. You have successfully installed Kodi on your Firestick. Enjoy your movies and shows.

Downloader App
The downloader app is free and allows you to install third-party apps on Firestick. You can install it from the Amazon store. Apply all the settings I mentioned above before adding Kodi's .apk file link in the Downloader app.
After that, add the .apk file to the Downloader app and click on the install button after Kodi gets downloaded.

Wrapping Up
These two methods are reliable and effortless if you want to install Kodi on your Firestick. Apply any of these methods and enjoy movies and TV shows for free.
---