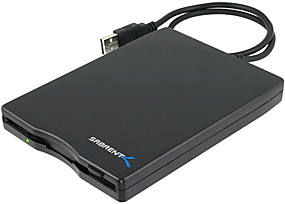 Question from Deanna T.:  Hi Rick. I have a question for you.
Is it possible to install a 3.5″, 1.44MB floppy disk drive in a Dell Inspiron 660s computer?
The reason I'm asking is because the trusty 11 year old PC I use in my fabric shop has finally bitten the dust.
I've replaced it with a refurbished Dell 660s that works great, but all of my data files are on 1.44MB floppy disks.
I found out today that the company that wrote the software I use has a new version available that'll work on my new computer, but I'll need to retrieve the data files from the floppies.
I was hoping I could just buy a 3.5″ floppy drive and install it in the computer.
Is that possible? Can you even still buy a floppy disk drive? As you can tell, I'm a little on the dumb side when it comes to computers.
Rick's answer:  Yes Deanna, it would certainly be possible to install a 3.5″ floppy drive in your Dell PC, and they are still available. However, you would probably need to purchase a special adapter cable because your particular computer doesn't have native support for these drives.
Therefore, in my opinion the limited benefits you would reap from adding an internal floppy drive don't justify the effort required to make it happen.
That being said, I have a great solution for you that's both extremely easy to implement and very affordable: Simply purchase an external USB floppy drive. They are actually quite inexpensive.
In fact, Amazon has a good selection of USB floppy drives starting at less than $15!
All you'll have to do is plug the drive into an open USB port. Windows should detect it and install the driver automatically. You can then copy the files from the floppy disks onto the hard drive, then unplug the floppy drive and set it on a shelf somewhere in case you ever need it again.
I hope this helps, Deanna. Good luck!
Bonus tip: Want to make sure you never miss one of my tips? Click here to join my Rick's Tech Tips Facebook Group!
Note: The links in this post are affiliate links.
---
Want to ask Rick a tech question? Click here and send it in!
If you found this post useful, would you mind helping me out by sharing it? Just click one of the handy social media sharing buttons below.