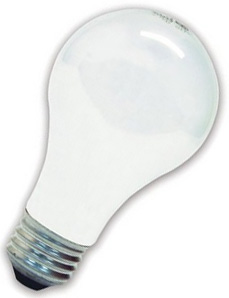 By now you're probably aware that the world is transitioning away from incandescent light bulbs and (more or less) replacing them with energy-efficient LED bulbs.
Personally, I actually prefer LED bulbs over incandescents, but I know many of you do not.
If you prefer incandescent bulbs you probably know it's pretty close to impossible to head over to your local retail store and buy one
 these days.
But truth be told, you can still purchase incandescent bulbs
if you know where to look.
There are a number of places to buy them online, but as usual I prefer Amazon
because of their low prices, unmatched customer service and free shipping on orders over $25.
Amazon sells incandescent bulbs packaged in varying quantities, but you'll usually get the best price-per-bulb by buying them in packs of 24, 48 or more.
And besides, when the ever-diminishing stock of large-wattage incandescents that still exist are gone, they'll be gone for good so it pays to buy them in bulk.
Since quantities are limited and prices are sure to go up as the available stock is depleted, you might want to stock up now while you still can!
Bonus tip: Want to make sure you never miss one of my tips? Click here to join my Rick's Tech Tips Facebook Group!
Note: The links in this post are affiliate links.
---
Want to ask Rick a tech question? Click here and send it in!
If you found this post useful, would you mind helping me out by sharing it? Just click one of the handy social media sharing buttons below.