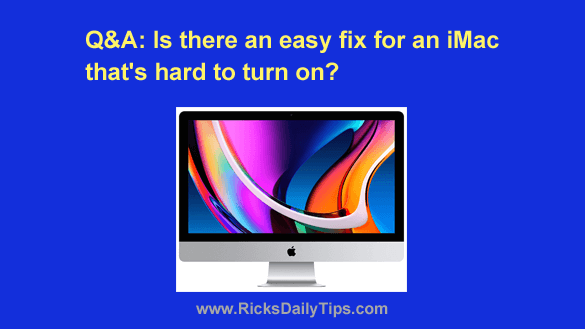 Click here to sign up for my free Rick's Tech Tips Newsletter!
---
Note: The links in this post are affiliate links.
Question from Iris:  I bought a new 27″ iMac about 9 months ago.
This is my first Apple computer and I really like it, but a few days ago I started having problems getting it to turn on.
Basically, nothing happens when I press the power button. But if I keep pressing the button over and over it'll eventually turn on after about 10 – 12 button presses.
Is this something you can help me fix? 
I contacted Apple and they told me this is likely a hardware problem and I need to return the iMac and let them fix it.
My question is since they said it's "likely" a hardware problem that must mean there's a possibility of it being a software problem, right?
Can you tell me something to try to fix it on my own? There's no Apple store near me so I'd have to ship it off for the repair and I hate the thought of having to do without my computer for several weeks.
Thanks for your help in advance.
Rick's answer: I wish I had better news for you Iris, but you really need to send your iMac back to Apple for this repair.
I understand that they left the door (slightly) open to the possibility that this could be a software issue, but it's virtually certain that it isn't.
They were just covering all the bases when they used the word "likely. Trust me on this – this is a hardware issue.
Bottom line: Apple products are generally quite reliable, and that certainly includes iMacs.
But as you've obviously discovered, not all of them are perfect.
I strongly recommend that you carefully box up your iMac and ship it back to Apple ASAP to make sure you get this taken care of while the machine is still under warranty.
If you keep putting it off you'll wake up one morning and the machine won't turn on at all.
If that happens after the warranty has expired (and the warranty on this machine will expire very soon!) you'll end up having to pay for the repair – and it'll probably be a pretty hefty expense.
Update from Iris:  That makes a lot of sense, Rick. I've decided to send it in for repair. Thanks for the advice.
---
Cick here to ask me a tech question.