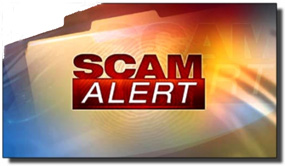 By now you've surely seen the heartbreaking images and videos coming out of the Houston, Texas area. Hurricane Harvey has almost completely devastated that area, and it isn't finished yet.
Sadly, dozens of our fellow citizens and an untold number of pets are already known to have lost their lives in the flood, and those numbers are only expected to grow as the waters eventually recede.
What's more, the scope and scale of the property damage is absolutely staggering. Hundreds of thousands of people have had to flee their homes and many of them will never be able to return. 
Like most everyone else, you're probably eager to do whatever you can to help the victims of Harvey's wrath in any way that you can. And unless you're able to head down to Texas and help out in person, about the only thing you can do is make a monetary donation.
Unfortunately, the scammers of the world are always on the lookout for a good disaster to exploit, and in their eyes Hurricane Harvey is a dream come true.
GoFundMe and the other crowdfunding sites are busy tracking down and removing as many of the scam "Help Hurricane Harvey Victims" campaigns as they can, but I'm afraid that's likely to be a losing battle.
And as usual, the scammers are out in force on Facebook and other social media sites as well.
I recommend that you be VERY careful about who you donate your hard-earned money to as this relief effort unfolds. While our friends in Texas can certainly use all the help they can get, any donations that end up in the hands of scammers won't benefit them in any way.
The folks at Charity Navigator have put together a short list of legitimate charities that are accepting donations for Harvey victims and delivering that aid to the people who really need it. Just pick one of the charities listed on the page at the above link and give as your heart leads you.
Bottom line: If you see a GoFundMe page or any post or page on Facebook, Twitter or elsewhere asking for donations to help the victims of Hurricane Harvey, be sure to check them out as best you can before hitting the "Donate" button.
And if you want to be absolutely sure that your donation will actually reach those affected by the flood, send it via one of the charities that's already been vetted by Charity Navigator.
---
If you think your friends would like this post, I'd love you to share it! Thanks a bunch!