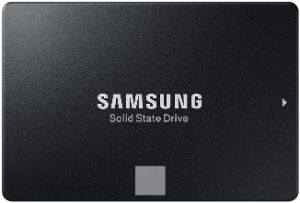 Solid State Drives (SSDs) have been around for a good while now, and it's no secret that replacing a hard drive with an SSD can put most any computer on virtual steroids.
But it's also well known that SSDs have one huge issue that has been holding them back from mass adoption in the PC marketplace…
Compared to traditional spinning hard drives, SSDs are both expensive and relatively limited in storage space. 
But I expect that to soon change now that the companies that make mass storage devices are putting more emphasis on SSDs and less on spinning hard drives.
SSDs have already dropped in price by a considerable amount within the last year or two.
In fact, you can now snag a 1TB SSD at Amazon for just a little over $100. Not all that long ago an SSD with that much storage space would have set you back several hundred bucks!
Of course hard drives are still a lot more cost effective if you need a drive in the multi-Gigabyte range, but now that 3D-NAND and other solid state storage technologies are really gaining traction I fully expect to see 3 to 5 Terabyte drives on the market at affordable prices on the not-so-distant future.
What does this mean for the future of spinning hard drives? I believe they'll be going the way of the floppy drive sooner than most people think.
That doesn't mean you should wait around if you have a computer that could benefit from an SSD upgrade right now!
You can already buy smaller SSDs for well less than a hundred bucks. That makes upgrading an older PC by adding a solid state drive a no-brainer in my humble opinion.
Bonus tip: Want to make sure you never miss one of my tips? Click here to join my Rick's Tech Tips Facebook Group!
Note: The links in this post are affiliate links.
---
Would you like to ask Rick a tech question? If so, click here and send it in!
If you found this post useful, would you mind helping me out by sharing it? Just click one of the handy social media sharing buttons below. Thanks a bunch!