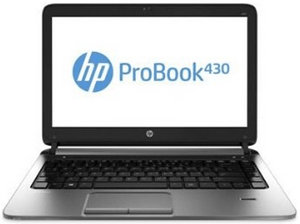 I'm often asked if it's still possible to buy a new laptop that's running Windows 7, and the answer is yes. There are actually a lot of Windows 7 PCs still on the market today.
A perfect example is the HP ProBook 430 Ultrabook, a compact and light, but very capable ultrabook laptop that's selling quite well at the moment.
I really like the modern ultrabooks that have become so popular these days. They typically pack a lot of power and functionality into a thin, light package, and this attractive ultrabook from HP is very nice indeed. 
Here is a list of its main features and specifications:
Intel Core i3-4010U 4th Gen Haswell CPU
13.3″ diagonal LED-backlit HD anti-glare (1366 x 768)
4GB 1600MHz DDR3L SDRAM
128GB Solid State Drive
Intel HD Graphics 4400 with VGA and HDMI outputs
802.11a/b/g/n Wi-Fi
Gigabit LAN adapter
Bluetooth 4.0
720p HD Webcam & Dual Array Microphone
DTS Sound+ with built-in speakers
Full-sized spill-resistant keyboard
2 USB 3.0 ports and 1 USB 2.0 port
Windows 7 Professional 64-Bit
All of the above comes in an attractive, thin, lightweight and durable light-gray case. As with virtually all ultrabooks, this computer doesn't come with an optical drive. But you can always plug in an inexpensive external USB optical drive in the rare times that you might need one.
Bottom line:  If you're looking for a very capable Windows 7 laptop that's light and easy to carry around, this great ultrabook from HP is an outstanding choice.
Click here to read more about the HP ProBook 430 Ultrabook at Amazon.
Note: The links in this post are affiliate links.