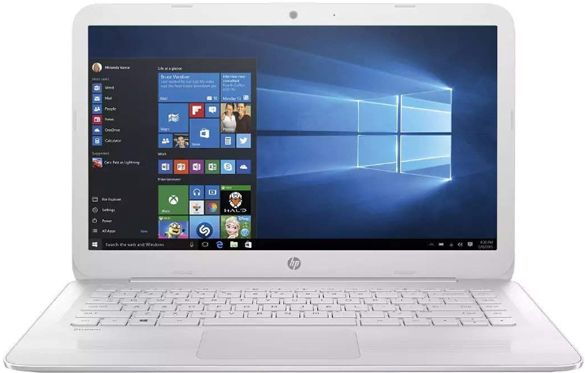 Note: The links in this post are affiliate links.
HP has always made great budget laptops, and their latest offerings are some of the best yet.
The prices of laptops with solid state storage have dropped so much that I now have difficulty recommending any PC that doesn't have a solid state boot drive.
I recently had the opportunity to check out a new budget laptop from HP that's just as affordable as a ChromeBook, yet has blazing fast solid state storage and runs Windows 10!
The HP Stream 14-inch Full HD Laptop has a very nice 14″ back-lit screen and most everything a casual user would want or need in a budget Windows laptop.
Let's start off with a quick run-down of the specs:
14″ full HD 1920 X 1080 WLED-backlit screen
HDMI connector for use with an external monitor
Intel Celeron N3060 1.6 GHz Processor
4GB RAM
64GB eMMC solid state storage
802.11ac/b/g/n (Miracast enabled) Wi-Fi
1 wired Ethernet port
1 USB 3.0 port
2 USB 2.0 ports
Weight: 3.15 pounds
Windows 10 Home
1-year subscription for Office 365 Personal is included
As you can see, this machine is pretty well equipped for such a low priced Windows laptop, and its relatively small size and weight make it a great "carry around" machine.
If you're primarily needing a laptop you can use at home or take on trips to access the Internet or use Office 365, this would be a great choice in my opinion.
Now all of the above being said, there are a few of things you need to know about this laptop before you make a purchasing decision:
1 – While it's much faster than a spinning hard drive, the 64GB of solid state storage won't leave you with a lot of room for installing programs or storing photos, videos and other files that you might want or need.
If you're going to be needing extra storage you'll definitely want to pick up an external USB hard drive and or sign up for some type of cloud storage to augment this laptop's internal storage, especially since upgrading to a larger internal SSD won't really be an option.
Note: 1TB of Microsoft OneDrive cloud storage is included with the 1-year subscription to Office 365, but you'll lose that storage if you decide not to renew the Office 365 subscription at the end of the first year.
2 – Like most new laptops, this one doesn't come with an optical drive. However, you can easily add one for as little as 15 bucks.
3 – This laptop is very capable of handling most any Internet related task, including the use of Office 365.
But that being said, if you'd like to run resource-intensive programs like Photoshop Elements and such, you'd probably be better off going with a machine that has a more powerful CPU as well as more RAM and storage space.
Bottom line: If you're looking for a great general-purpose laptop for Internet use or a relatively compact second laptop for use when travelling, I believe this little gem from HP would be a fantastic choice. Just make sure it's capable of doing everything you need for it to do.
Click here to read more about the HP Stream 14-inch Full HD Laptop at Amazon.
Bonus tip: Want to make sure you never miss one of my tips? It's easy! Just…
Click here to sign up for my free Rick's Daily Tips Email Newsletter!
---
Would you like to ask Rick a tech question? If so, click here and send it in!
If you found this post useful, would you mind helping me out by sharing it? Just click one of the handy social media sharing buttons below. Thanks a bunch!