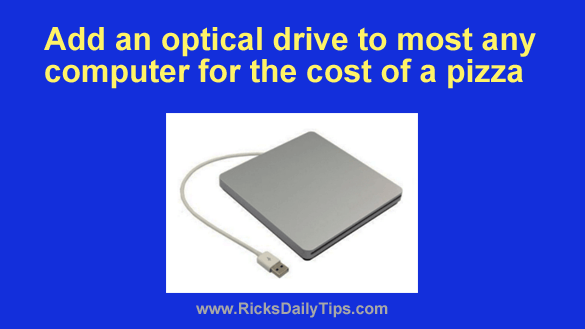 Note: The links in this post are affiliate links.
If you've been checking out the latest laptops and desktop computers you've probably noticed that most of them no longer come with an optical drive.
In fact, DVD and Blueray drives are now quite rare in the latest models.
There are three primary reasons why computer manufacturers have started skipping the optical drives when designing new laptops:
1 – Since most software, music, movies and other forms of digital media is now either downloaded or streamed via the Internet, the need for optical drives has diminished to where it makes little economic sense to include them in new laptops.
2 – Being lightweight and easy to carry is one of the major selling points of laptops these days. "Light and thin" is the current catch phrase, and the lightest and thinnest laptops, by necessity, don't include optical drives.
3 – Not including an optical drive makes it cheaper to produce a computer, and that of course results in the manufacturer earning more profit from each unit sold.
While its true that optical drives are rarely used anymore, there are still lots of folks who like to listen to CDs and watch DVDs on their computers.
There's also an awful lot of legacy software still sitting around on optical discs, and we occasionally need to re-install it.
And let's not forget all the DVD/RW discs containing cherished family photos and other important files.
That's why it makes sense to have an optical drive ready and waiting for the rare times when we need one.
Luckily, adding a DVD/RW drive to most any laptop is both inexpensive and easy to do.
For example, Amazon sells external USB DVD/RW drives for about the cost of a decent pizza, and all you have to do is plug them into an open USB port!
Bottom line: Adding an optical drive to your laptop couldn't be easier or less expensive. In my opinion, doing so is a no-brainer if you even think you'll need to access an optical disc at some point in the future.
Click here to check out the great selection of inexpensive external USB optical drives at Amazon.
---