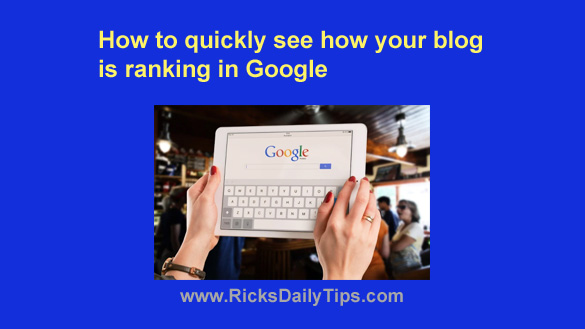 If you're a blogger you surely know how important it is for your blog posts to rank well in Google.
After all, traffic is the engine that drives all success in blogging, and there's simply no better source of traffic than Google's organic search results.
Most bloggers check their Google rankings by typing the keywords and key phrases they're trying to rank for into Google's search box and then scanning the list of search results to see where their blog posts show up.
If all is well they'll find one of their blog's posts listed on the first page. And if all is REALLY well their post will be in the number one position.
That's indeed a tried-and-true method for discovering your blog's Google rankings, but it can be quite tedious and time-consuming if you have a lot of search terms you want to check.
And it's even worse if very few of your target search terms are showing up on page one of the SERPS (Search Engine Results Pages) since you'll have to slog through page after page of the SERPS until you find where your URL is ranked.
Well, you don't have to do it that way any longer…
There are several handy online tools you can use to check your blog's Google rankings. And as luck would have it, one of my favorites is absolutely free!
Famed Search Engine Marketing and SEO expert Neil Patel has developed an awesome online tool for quickly checking where your blog ranks in the Google SERPS for your target keywords and key phrases.
What's more, it'll also show you how your posts are ranking for terms you aren't even targeting!
This awesome tool is called Ubersuggest, and it's extremely easy to use.
Simply visit the Ubersuggest web page and then type your blog's domain name into the search box and click the Search button.
Ubersuggest will now scan your blog to determine which keywords and phrases your posts are ranking for. After the scan is finished click on the Keywords link over in the left-hand column to view the results.
The search terms you're ranking for will be placed in a list along with the position that term currently holds in the SERPS.
When you see a keyword or key phrase of interest you can type that term directly into Google's search box to verify the tool's findings.
Time and again I've found Ubersuggest's findings to be extremely accurate.
When I first typed RicksDailyTips.com into Ubersuggest I was very pleasantly surprised to discover that my blog is ranking well for numerous keywords and key phrases, many of which I haven't even "targeted".
Here's a screenshot that shows a sample of the search terms RicksDailyTips.com is ranking for along with their positions in the Google rankings: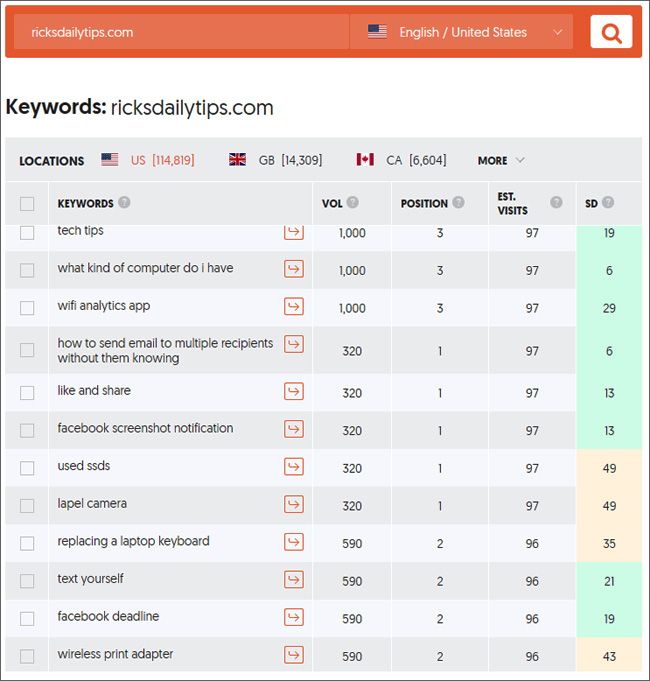 You should see the same type of display after Ubersuggest scans your own blog.
As you can see, there's plenty of great info here but the "Position" column will probably interest you most since that number denotes where your blog is ranking for that particular search term.
And as you might expect, you're shooting for number 1!
In addition to your blog's Google rankings, Ubersuggest also provides tons of other incredibly useful information for you to view and digest.
I recommend that you head over to Ubersuggest right now and check it out. Type in your blog's domain name and then click the Keywords link.
After you've satisfied your curiosity about your current Google rankings, spend some time exploring all the other fascinating metrics.
That information will help you target even more (and better) keywords and key phrases to increase your rankings (and search traffic) even more!
---
Never miss a tip!  Click here to sign up for my free Daily Tech Tips Email Newsletter!