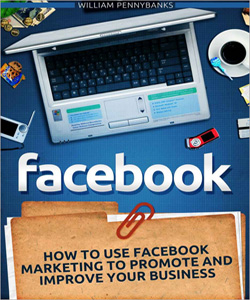 If you're struggling to promote and grow your small business, you have probably recognized the awesome potential of marketing on Facebook to their 1 billion or so active users.
It's very true that Facebook offers some amazing potential for helping you grow your business, but you'll need a clear, effective strategy if you want to take full advantage of it.
Facebook Marketing is simple in concept, but I can tell you from personal experience that there are countless ways to do it wrong and end up spending a ton of money with little in the way of tangible results to show for it. 
A powerful Kindle eBook titled How To Use Facebook Marketing To Promote and Improve Your Business (#ad) explains in detail how to successfully market your website, goods and/or services to the vast pool of Facebook users without wasting either time or money.
In a nutshell, this is basically a course in how to succeed on Facebook. You'll learn how to effectively set up a Facebook page for your business, then generate "Likes" to the page and attract a steady flow of paying customers.
Using Facebook to market your business isn't brain surgery, but learning how to go about it in the right way is the first rung on the ladder to Facebook Marketing success.
Click here (#ad) to read more about How To Use Facebook Marketing To Promote and Improve Your Business on Amazon, including a bunch of informative user reviews.