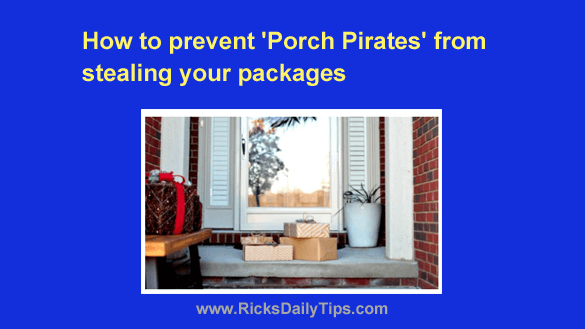 Note: The links in this post are affiliate links.
Are you familiar with the term "Porch Pirates"? You really need to be if you shop online.
Porch pirates are thieves who walk, bike or drive through residential neighborhoods checking all the front porches for packages that have been delivered but not yet retrieved by their recipients.
If they happen to spot a package sitting on someone's porch they'll sneak over and grab it, then hurry away from the scene as quickly as possible.
Believe it or not, porch piracy is a big deal in today's world. 
With millions of consumers shopping at Amazon, Walmart.com and other online venues the thieves are virtually guaranteed to find at least one package sitting on a porch in most any residential neighborhood they choose to target.
Unfortunately, "porch pirates" are operating in most towns and virtually every city in America, and some of them even make their living by selling the goods they pilfer from their victims' porches.
And the problem is likely to get worse before it gets better.
However, there are several things you can do to prevent it from happening to you:
1 – If possible, have your packages delivered to your workplace instead of your home.
Many companies have mail rooms that can accept your packages on your behalf. They will then either deliver them right to your office or work location or allow you to stop by and pick them up.
Smaller companies that don't have a mail room still receive mail and package deliveries every weekday. Chances are your employer will gladly accept your package deliveries along with their own deliveries.
2 – Have your packages delivered to a trusted friend or relative's home instead of yours.
If someone you know well and trust is usually at home during the day you can have your packages delivered to their home where they can pick them up and take them inside where they'll be safe.
Of course that person must be willing to accept the responsibility of accepting and caring for your packages, but chances are you have a great friend or family member who would gladly do it for you (especially if you offer them a few bucks for their trouble).
3 – If you receive lots of packages it might be worth the trouble and expense to rent a post office box just to receive your packages. That way you'll be able to pick them up at your leisure.
Just be aware that some online retailers won't deliver to a PO box, only a street address. If you order from one of those companies having a box at the post office won't help you. All is not lost, however…
If your local area has a UPS Store you can rent a mailbox from them instead.
The UPS Store will rent you a mailbox that works exactly like a PO box at the post office. The main difference is you'll be given a street address instead of a PO box address.
What's more, the UPS Store will accept your packages on your behalf and store them in a secure location until you get a chance to drop by and pick them up. They'll even send you a text message or email letting you know that your package has been delivered!
4 – If your family receives a lot of packages it might well be worthwhile to invest in a package delivery box.
As you might imagine, these boxes are quite popular these days.
There are many types and designs to choose from and they're very effective at preventing the theft of deliveries that cannot be retrieved from your porch right away. They are also quite affordable.
The four options listed above will help ensure that you'll always receive your packages even when you must be away from home during the day.
But what if you're usually at home during the day? No problem, right?
Well, truth be told, some porch pirates are brazen enough to steal packages from porches even when they suspect that the recipients are at home! They simply sneak onto the porch, grab the package, and run.
While it's difficult to prevent the most brazen thieves from making off with your packages, there are some things you can do to reduce the risk:
1 – Check the tracking info for each of your expected deliveries every morning so you'll know exactly when a package is supposed to arrive. Most carriers will change the status to "Out For Delivery" as soon as the package is loaded onto the truck for delivery to your home.
If at all possible, arrange your schedule to ensure that you'll be home when the package arrives. It's pretty hard for a porch pirate to steal a package that was retrieved immediately after it was delivered.
2 – Ask your neighbors to give you a call if they happen to see a package sitting on your porch. Who knows, you might be in the shower or napping on the couch and not realize that the delivery van has come and gone.
You can also agree to do the same for your neighbors. Think of it as sort of an informal "Community Watch" service where everyone in the neighborhood is "on watch" every day.
All of the above being said, there will probably come a time when you simply must be away from home when a package is delivered. After all, things come up from time to time.
For example, what happens if you're usually at home during the day but you happen to be out running an important errand when you receive a call, text message or email telling you that a package has been delivered?
If that happens I strongly recommend that you go home and retrieve the package from your porch immediately if at all possible, even if the dollar value of the package is quite low.
Why? Because many porch pirates are creatures of habit.
Once one of these scoundrels successfully steals the first package from your porch they'll start watching your place like a hawk, waiting to pounce on the next package that shows up.
Even if the first package they steal is worth just a few bucks, the next one they steal could be worth a lot more. That's why it's best not to let a thief complete that first successful theft if at all possible.
If you simply cannot return home before you've completed your errand, do so as soon as possible even if it means you have to postpone a second non-critical errand until another day.
And now one final note…
There's always a chance that a porch pirate will make off with one of your packages despite your best efforts. Like I said earlier, things come up.
If a thief does happen to abscond with one of your packages your chances of catching him/her will be a lot greater if you had a WiFi Security Camera keeping lookout on your behalf.
These cameras work well and they are quite affordable. And you don't have to pay a professional installer to install one for you. All you have to do is buy one and follow the simple instructions and install it yourself.
You'll find more information about about using WiFi Security Cameras in this post.
Bottom line: Porch Pirates steal millions of dollars worth of merchandise every year, and the problem is growing by the day. The tips mentioned in this post can help prevent you from becoming a victim.
Bonus tip: This post explains 10 ways to fool burglars (and porch pirates) into thinking you're always at home.
---