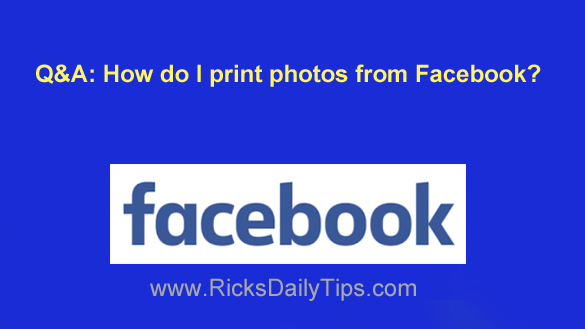 Click here to sign up for my free Rick's Tech Tips Newsletter!
---
Question from Velma P.:  I hope you can help me Rick.
My daughter helped me get on Facebook so I can talk to her and my grandchildren and share pictures back and forth with them (they live out of state).
She sent me some pictures last night that I'd really like to print but I can't figure out how to do it. I'm still learning how to use this thing and I'm doing pretty good, but this has me stumped.
Can you tell me how to print photos from Facebook? My computer has Windows 10.
Rick's answer:  Velma, there are many things that aren't all that intuitive when working with Facebook, and printing photos is one of them.
As you've already discovered, you can't simply right-click on a Facebook photo and click "Print" as that option doesn't exist.
There are a number of browser extensions that allow you to print photos directly from Facebook, but I no longer recommend any of them because a couple of the extensions that I used to recommend eventually went to the dark side and morphed into malware.
Luckily, there's an easy way to print your Facebook pictures from your computer without using any third-party software at all. Here's how:
1 – Scroll through your Facebook photos until you find the photo you want to print, then click on that photo to open it on its own page.
2 – Right-click on the photo and click Save as.
Note: Depending on the way the photo was uploaded to Facebook, there might be a "Print" option available directly on the pop-up menu. If so, you can use that instead of saving the photo to your computer before printing it.
3 – Save the photo to your computer's Desktop.
4 – Right-click on the saved photo and select Print from the drop-down menu.
5 – Select the print settings that you want and insert a sheet of photo paper into your printer.
6 – Click the Print button.
7 – Repeat steps 1-7 for each of the other photos you wish to print.
Of course all of the above assumes you're using Facebook in a web browser on a laptop or desktop computer.
Unfortunately, things are a bit more complicated if you use the Facebook app on a mobile device. However, you do have a few options:
1 – Connect your device to a computer with a data cable and copy the photo(s) to the computer, then print them from there by following the instructions listed above.
2 – Temporarily remove the SD card from your device and connect it your computer, then navigate to the photo(s) and print them.
3 – Use a third-party app to print your photos. Some printers come with an app for printing from Facebook.
If yours doesn't you can always use the app from either Walgreens or CVS to have them print your photos for you.
That's all there is to it Velma. Once you have your photo(s) on your computer they should print just fine. You now have a copy on your computer as well as the original(s) that's still in your Facebook account.
Bonus tip: Since you're new to Facebook I recommend that you read this post to learn how to protect your Facebook account from hackers.
---
Cick here to ask me a tech question.