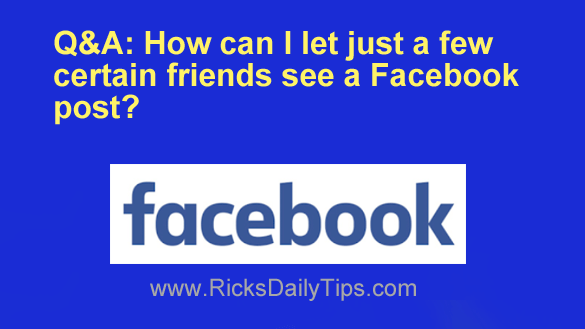 Question from Myra:  I have several hundred friends on Facebook but sometimes I post things that I only want a small selected group of those friends to see.
These posts often contain church related info that wouldn't be of interest to anyone except the friends who attend my church.
Is it possible to only allow those specific "church" friends to see those special posts and hide them from all the rest of my friends? 
Rick's answer: You can easily limit certain posts to a specific group of your friends on Facebook, Myra.
All you have to do is create a custom friends list that contains just those specific friends, then set the privacy level of the posts you want only those specific friends to see to that list name.
Luckily, this is quite easy to do but you'll have to do it while using Facebook in a web browser on a laptop or desktop PC. For whatever reason Facebook hasn't provided a way to do it using the Facebook app on a mobile device. Go figure.
With that in mind, simply follow the steps below to create a custom friends list just for your "church friends":
1 – Log in to your Facebook account.
2 – Make sure your Newsfeed is displayed on the screen, then click the Friends link over in the left-hand column (you might have to click See more first).
3 – Click Custom Lists.
4 – Click Create List.
5 – Type a name for the list into the box, then click Confirm.
Note: Since this list will contain only your Facebook friends who attend church with you a name like "Church Friends" would probably work just fine. However, you can choose any name you want for the list.
6 – Click Add Friends and follow the prompts as they appear to add everyone you want to be on this list.
You should now have a new custom friends list that contains just the people that attend church with you.
Now, here's how to publish a Facebook post that's only viewable by the people who are on your custom "church" friends list:
1 – Create your status update, photo post, or whatever type of post you wish to share with the people on your custom friends list.
2 – Click the button for this post's intended audience and then select the name of your custom friends list from the drop-down menu.
Note: You might need to click More and then See all in order to find your custom friends list.
3 – Click the Share button.
Important: Remember to change the intended audience of the next post you publish back to its initial setting or that post will be sent to your custom friends list as well.
That's all there is to it. Now you know how to create a custom friends list consisting of only the specific friends you want to share certain types of posts with and then create a special post that's viewable only by the friends you have placed on that list.
I hope this helps, Myra. Good luck!
Update from Myra:  This is exactly what I needed, Rick. Thank you!
---