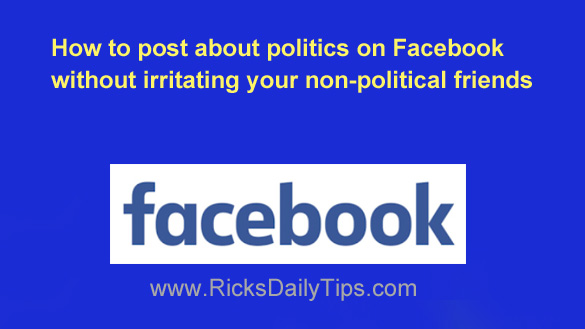 Do you enjoy discussing politics on Facebook but hesitate to put up political posts because you have friends who get upset when they see those types of posts in their newsfeeds?
Well, there's a simple way to post about politics (or any other topic for that matter) on your Facebook Timeline without your non-political friends ever having to see those posts or any of the comments that are left on them.
All you have to do is create a "Custom Friend List" consisting just of your Facebook friends who enjoy discussing politics (or whatever the topic might be) and publish your political posts to that custom list.
It's easy to do, and it'll make your life on Facebook a lot more pleasant. Here's how to set it up:
Note: You have the absolute right to post about any topic you want without worrying about how some of your friends will react to it.
This post is intended for those who enjoy political discussions but don't want to annoy their friend who don't. Just sayin'.
And now, back to the tip at hand…
1 – Log into your Facebook account and visit your Newsfeed page.
2 – Click the Friend Lists link located in the left-hand column (note: you might need to click See More).
3 – Click the Create List button.
4 – Type a name for the list that matches the topic you wish to discreetly post about on Facebook into the "List Name" field.
For example, if you want to post about politics you could simply name the list Political Friends.
5 – Type the names of the friends you want to add to the list into the "Members" field.
6 – After you've finished entering the names of all the friends you want to add to the list simply click the Create button to create the list.
Follow these steps to publish posts intended to be seen only by members of your new list:
1 – Go to your Timeline page and click inside the "Status Update" box (the box where you always type your posts).
2 – Type your post, upload a photo, paste a link…whatever you want the post to consist of.
3 – Change the privacy setting for the post to force the post to only go to the members of your list.
To do that simply click the 'Audience Selector' for the post and select your new "Political Friends" list from the list of "Custom" lists. You'll probably have to click More and then See All to find it.
4 – After you've set the privacy level for the post to the "Political Friends" setting you can click the Post button to publish the post on your Timeline.
There are several ways to find friends who would want to be on your Political Friends list and receive your political posts.
The easiest way is to publish a post saying something like "Who wants to be on my new "Political Friends" list and receive my posts about politics?"
You can also send selected friends an instant message asking if they'd like to be added to your new list. Just be sure to describe the types of posts they'll be receiving as a member of the list before adding them to prevent them from being surprised and upset by the posts they'll receive.
Bottom line: Your Facebook "Friends List" probably has plenty of folks who enjoy discussing politics on it. And there will likely be just as many who don't.
Creating a custom friend list just for the friends who want to receive political posts is a great way to keep all of your friends happy while you and your "political friends" discuss politics to your hearts' content!
---
Never miss a tip!  Click here to sign up for my free Daily Tech Tips Email Newsletter!