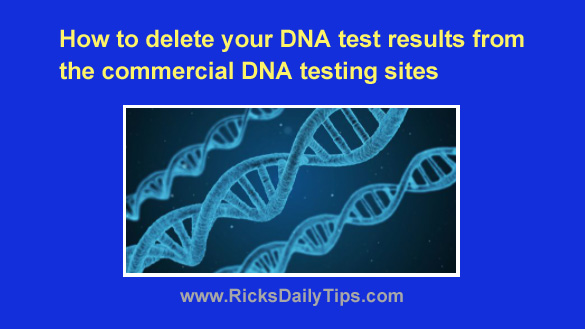 It's hard to turn on your TV anymore without seeing an ad for one of the commercial DNA testing services.
AncestryDNA, MyHeritage and 23andMe are all spending massive amounts of cash on ads to try to lure as many people to use their service as possible.
And it's easy to understand why. Just about everyone we talk to these days has either already submitted their DNA for testing or are planning to in the near future.
But truth be told, there are very real and serious risks involved with allowing any commercial company to store your genetic information in their database.
I won't go into what those risks are in this post, but I covered them in detail here and here.
If you haven't read those posts already I recommend that you take a few minutes to do so. If you do you'll understand why using a commercial DNA testing service isn't such a great idea.
But if you've already had your DNA tested by one of the "Big Three" testing services, you can opt to delete your genetic information from their database – and I strongly recommend that you do so!
It's actually fairly easy to request that your DNA test results be deleted from the testing companies' servers. Just follow the steps below for whichever service(s) you used.
AncestryDNA
1 – Visit this page on the AncesteryDNA website and log into your account.
2 -Scroll to the bottom of the page and click Delete next to "Delete DNA Test Results And Revoke Consent to Processing".
3 –  Enter your password and click Delete test results and Revoke Consent.
MyHeritage
1 – Log into your MyHeritage account.
2 – Hover your mouse pointer over the DNA tab and click on Manage DNA kits.
23andMe
1 – Log into your 23andMe account.
2 – Click on Account Settings and select the option to delete your information.
Bottom line: I don't believe it's a great idea to use a DNA testing service at all, but if you have already used one you can have your DNA test results deleted from their server by following the steps listed above.
---
Never miss a tip!  Click here to sign up for my free Daily Tech Tips Email Newsletter!