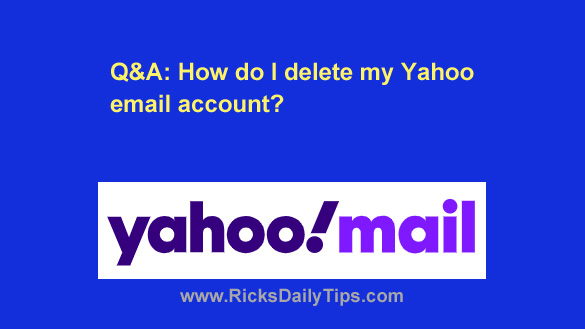 Question from Cindy P.:  I've used Yahoo mail for decades but I recently started having problems with it.
I finally got fed up with it and switched to Gmail this morning so I really don't need the Yahoo account anymore.
How do I delete my now-abandoned Yahoo account?
Thanks in advance for your help.
Rick's answer:  You're certainly not alone, Cindy. Lots of folks are ditching their Yahoo Mail accounts of late and switching to other email providers.
Luckily, it's very easy to delete your unwanted Yahoo email account. But first, I strongly recommend that you read the important message below…
Important: Following the steps below will completely wipe out everything that's associated with this particular Yahoo account, not just your email service.
The entire list of Yahoo services affected will be provided on the Account Termination page.
You might also want to import to import your existing Yahoo email messages into your Gmail account before you take the plunge and delete the account. This post explains how.
Once you're ready to proceed just follow the steps below to delete your Yahoo account.
1 – Click here to visit the "Terminating your Yahoo account" page on Yahoo's website.
2 – Enter your Yahoo password (if requested to do).
3 – (Note: This step is optional) – Read the text on the page that explains the ramifications of deleting your account, then continue with step 4 if you still want to delete it.
4 – Follow the steps as they appear from this point on.
That's all there is to it. Your Yahoo account and all the personal information you had stored in it should be gone just as soon as you click the button to terminate your account.
I hope this helps, Cindy. Good luck!
Update from Cindy: Just what I was looking for, Rick. Thanks a lot!
---
Never miss a tip!  Click here to sign up for my free Daily Tech Tips Email Newsletter!