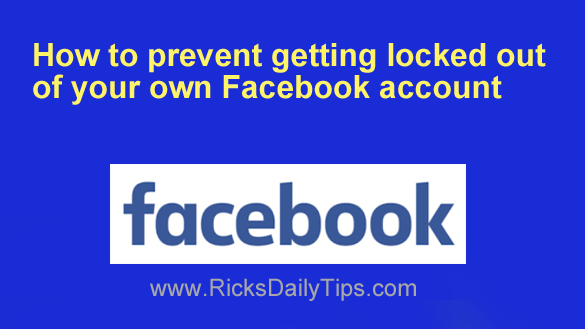 I receive frantic messages on a regular basis from folks asking for help getting back into their Facebook accounts because they have somehow gotten locked out of them.
Sometimes I'm able to help them reset their password and log back in with no problems, but all too often a simple password reset doesn't work for them.
And sadly, in situations like this Facebook's "Account Recovery" tools can be pretty close to useless.
Most forgotten passwords are the by-product of allowing the web browser to store their passwords and log them in automatically, causing the account owner to forget the password over time.
If a browser's stored password fails for some reason (and trust me, it probably will eventually), the user will be locked out of his/her account until he/she successfully resets the password.
Unfortunately, it's sometimes impossible to reset a forgotten password on Facebook due to the way the site's security measures are set up.
This is one of the reasons why I recommend that you never let your browser store your passwords. (Hint: If you always have to type in your password in order to log in you're unlikely to ever forget it. )
Another way people get locked out of their Facebook accounts is having a hacker break into them and change the passwords.
If the hacker changes only the password and nothing else a simple password reset will quickly get you back into a hacked account.
The problem is, most hackers don't just change the password. They typically also change the email address and phone number that's registered with the account and remove your trusted contacts. The result is the real account owner is locked out of their account forever.
Once you find yourself in a never-ending loop of trying to reset your password and having it fail, the only realistic way out is to abandon your account and open a new one. And that is obviously not a good thing.
Luckily, there are several things you can do right now to ensure that you will never get locked out of your own Facebook account in the future:
1 – Choose a password that's very secure, yet extremely difficult to guess. This post explains how to do that.
2 – Don't let your browser store your password and log you into your account automatically, for the reasons stated in this post.
3 – Enable Two-Factor Authentication on your Facebook account to prevent others from logging into it without your permission.
Once you have Two-Factor Authentication enabled a hacker would need to have physical access to your mobile phone (which he almost certainly won't have) in order to log in to your account, even if he knows the password.
4 – Follow the steps listed in this post to disable any apps and games that you never use.
5 – Follow the steps in this post to designate five of your most trusted Facebook friends as your Trusted Contacts. Those trusted friends will then be able to help you get back into your account if you ever find yourself locked out of it.
6 – If you ever change your email address or phone number make sure you change them in your Facebook account right away. You'll need access to the email address or phone number that's registered with your Facebook account if you ever need to reset your password.
That's all there is to it. Once you've followed the steps listed above you'll be able to rest assured that you'll never get locked out of your own Facebook account!
---