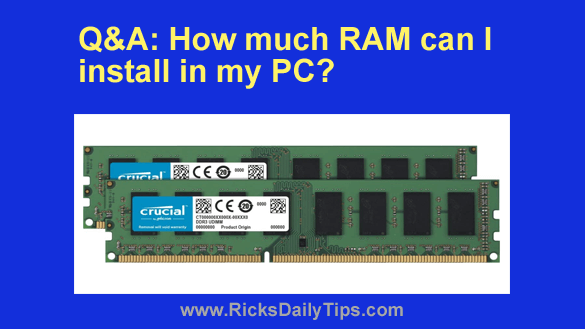 Note: The links in this post are affiliate links.
Question from Adrien:  I have a three year old custom-built desktop computer that's in need of some upgrades.
I plan to replace the motherboard in a year or so but right now I can only afford to add an SSD and (hopefully) max out the RAM.
I know which SSD I need to buy but I'm not sure how much RAM I can add.
Can you tell me how much RAM can be installed on a 3 year old Gigabyte motherboard? 
Rick's answer:  Adrien, you didn't mention which specific motherboard you have in your computer, and I'm afraid there's no way to accurately answer your question without that info.
However, you can quickly and easily determine how much RAM you can install inside your PC (and just as important, what type) by using the handy System Scanner tool provided by Crucial.com.
Crucial's System Scanner will thoroughly scan your PC's hardware and then tell you exactly what kind of RAM sticks you need to buy, and how many.
Be aware that maxing out the RAM on your PC's motherboard might well require you to remove the existing RAM and install all new sticks.
For example, if a motherboard that can use 32GB of total RAM currently has two 4GB sticks installed, the two existing sticks would have to be removed in order to install the full 32GB.
To find out exactly what you're going to need I recommend that you head on over to Crucial and run the System Scanner tool on your PC.
That's a quick way to determine exactly what you'll have to buy in order to max out your system's RAM.
Once you find out exactly which RAM sticks you need (and how many) you'll be able to order them right there from Crucial or from some another retailer like Amazon or Best Buy.
And finally, here's one last thing for you to consider…
You mentioned that you're planning to replace the motherboard in a year or so.
If you buy RAM now to match your PC's existing motherboard, there's a really good chance that the RAM you buy now won't be compatible with the new motherboard you'll be purchasing a year from now.
By saying that, I'm not trying to discourage you from making the upgrades you want. Far from it.
I just feel that I need to give you as much info as possible so you can make the best upgrade decisions you can.
---