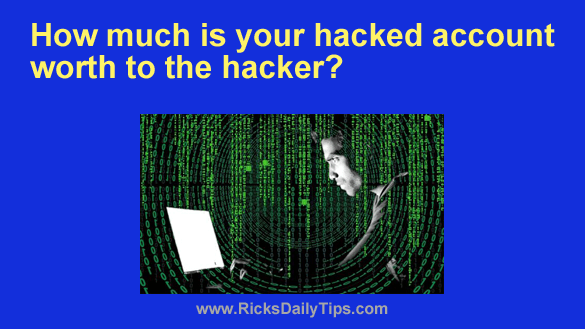 As you surely know by now, hackers are constantly trying to steal the login credentials for your Facebook, Instagram, Twitter, Gmail and other online accounts.
If you're wondering why they're so interested in getting their hands on that info, there's a simple reason: Money!
Stolen login credentials are in high demand on the dark web, and one large data breach could potentially net a successful hacker enough ill-gotten cash to literally retire in luxury.
The security firm Privacy Affairs recently completed this extensive study into the prices being paid for stolen login information, and what they discovered just might shock you.
While some stolen info sells for as little as $3 a pop, there are other types of info that sell for thousands of dollars each!
The ones that really caught my eye were the services that most of us use on daily basis.
Here are the average prices being paid for login credentials for the four services that probably interest you the most:
Facebook – $74.50
Instagram – $55.45
Twitter – $49
Gmail – $155.73
If you're wondering why Gmail logins sell for so much more than the others it's because having access to a Gmail account is often an open door into a variety of other accounts since Gmail is used by so many people to reset all of their online passwords.
You might be thinking that those prices aren't really high enough to make a hacker rich, but they actually are.
Yes, some of the stolen info goes for as little as 3 bucks a pop, but just think how quickly that can add up when hundreds of thousands (and in some cases millions) of login credentials are stolen in a single data breach!
And the ill-gotten proceeds can increase exponentially when higher value info is stolen.
These steps can help keep the login info for your online accounts protected:
1 – Use a strong password that's easy to remember, yet extremely secure.
2 – Enable Two Factor Authentication on every online account that supports it.
3 – Never fall for phishing attempts in emails or browser pop-ups.
Bottom line: The results of this study clearly show why it's so important to protect the security of all of your online accounts to keep the hackers of the world out of them.
---