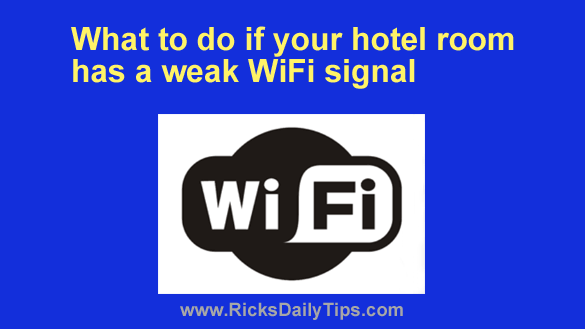 If you do a lot of traveling you have probably found yourself stuck in a hotel room with a weak WiFi signal on more than one occasion.
Several variables control the strength of the WiFi signals in any building, and many older hotels (and even some newer ones) have rooms with weak signals and poor connections.
If you really need to use the Internet during your stay, there are several things you can try in order to get a better connection when you're stuck in a room with a poor WiFi signal: 
1 – Check to see if the room has an RJ-45 jack for a wired Ethernet connection. Many still do, even if they have added WiFi in recent years.
I always choose a wired connection anyway whenever possible regardless of the strength of the WiFi signal because wired connections tend to be faster and more stable in hotels. And even more important, wired connections are inherently more secure.
Note: I always take a short Ethernet cable along with me when I'm traveling, just for this purpose. I recommend that you do the same.
However, if you find yourself needing an Ethernet cable and you don't have one with you, chances are the hotel front desk will have one they can loan you to use during your stay. You can pretty much count in it if the hotel provides wired Ethernet connections in its rooms.
2 – Try moving your laptop to a different part of the room. Sometimes moving just a few feet can make all the difference in the world.
3 – Carry your laptop out into the hallway and see if there is a strong WiFi signal there. If not, the hotel's router might need to be rebooted. Call the front desk and ask them to reboot the router. Sometimes they will and sometimes they won't, but it's always worth a try.
4 – If available, you can try using your smartphone's tethering feature to create a portable hotspot.
5 – And if all else fails, ask to be moved to a different room that's closer to the router or one of the hotel's WiFi repeaters.
Now all of the above being said, there will be times when you won't be able to access the Internet at all from your hotel. That's just the way life works.
However, the tips mentioned in this post can help resolve many common WiFi issues.
Bonus tip: In hotels that provide wired Ethernet connections you can use an inexpensive portable travel router to create your own personal secured WiFi network. That will allow you to use your laptop and your mobile devices via WiFi at the same time!
---