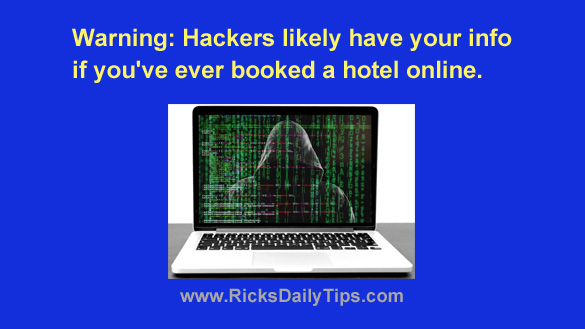 As you probably know by now, hackers are constantly on the lookout for ways to steal customer info from companies both large and small.
Well, the latest data breach to come to light is a real doozy because it affects virtually everyone who has booked a hotel online since the year 2013.
A software company called Cloud Hospitality provides the booking software for several of the largest online hotel booking sites, and it has just been discovered that they stored personal and financial info for millions of customers in a plain text, non-password protected database on their server.
Were you affected by this breach?
If you booked at least one hotel room using one of the online booking services listed below at any time after 2013 then you have likely been affected.
And if that turns out to be the case your name, mailing address, phone number, email address and payment information (credit/debit card info) are probably for sale on the dark web as we speak.
Here's a list of the online booking services that were affected by the breach:
Agoda
Amadeus
Booking.com
Expedia
Hotels.com
Hotelbeds
Omnibees
Sabre
As you can see, this affects most everyone who has booked a hotel online since the year 2013.
What does this mean to you?
Well, for starters scammers could soon start making fraudulent charges on your credit or debit card.
And then there's the huge possibility of your phone number, mailing address and email address landing on dozens of scammer's lists.
But perhaps worst of all, your identity is at risk of being stolen by scammers who plan to use it to open new financial accounts in your name.
What you need to do to protect yourself
If you have used one or more of the hotel booking sites listed above at any time since 2013 it's important to do the following ASAP:
1 – Check your statements carefully to make sure there have been no fraudulent charges made on any credit or debit cards that you might have used to book a hotel during the years since 2013.
2 – Contact your bank(s) to see if they recommend canceling your card(s) and issuing replacement(s) for them.
3 – Prevent scammers from opening new accounts in your name by requesting that all three major credit bureaus place a freeze on your credit. You can do that by visiting the pages below:
4 – Request a free credit report from all three of those services and check them carefully for accounts that you didn't open.
5 – Change your passwords and enable Two-Factor Authentication on every online account that could possibly have been affected by this breach.
Bottom line: It seems to be getting harder by the day to protect our personal and financial information from the hackers and scammers of the world.
That's why it's more important than ever to use strong login credentials on your online accounts and keep a very close eye on your bank statements and credit reports.
---
Never miss a tip!  Click here to sign up for my free Daily Tech Tips Email Newsletter!