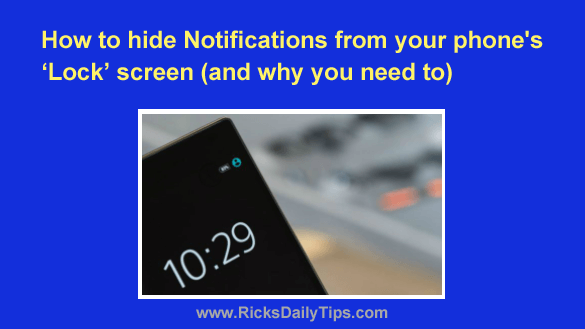 Do you have your smartphone set to display all of your oncoming notifications on the Lock screen?
If so, you're not alone because that's the norm among most smartphone users.
But did you know that allowing your notifications to pop up on the Lock screen puts the security of your online accounts at risk?
What's more, it also diminishes your privacy.

First, let's talk about the security issue…
If you have Two-Factor Authentication enabled on your online accounts (and you really, really should!), the text messages you receive that contain your authentication codes will be displayed right on the Lock screen.
That can certainly be convenient, but it also makes those important codes available for all to see, including someone who might want to log in to your account without your permission.
If that someone happens to know the password to your account, all he/she will need in order to log in is a valid Two-Factor Authentication code.
If your phone displays all notifications on the Lock screen they'll see the code if they happen to be looking at your phone when the authentication text message comes in.
As you can see, this is not an ideal situation.

And now, let's discuss the privacy issue…
If you send and receive text messages that you would prefer to keep private between you and the other party, they'll be far from private if you have your phone set to display all notifications on the Lock screen.
And when I refer to privacy in this context, I don't just mean conversations of a sensitive nature that could cause embarrassment if they became public.
Who you talk to, when you talk to them and what you discuss with them is your business, and your business only.
However, if your messages are displayed on your phone's lock screen they also become the "business" of anyone else who happens to be looking at your phone when they come in.
This can be especially problematic if you tend to lay your phone down in a place where other people can easily see it.
Luckily, it's very easy to hide your notifications from your phone's Lock screen. Just follow the steps below for your device.
Note: The actual steps for disabling Lock screen notifications vary from phone to phone.
If your phone's settings differ from what you see below, simply use the instructions below as a rough guide. Just look through your Settings and you'll find the setting you need to change.

Follow these steps if you have an Android phone:
1 – Tap the Settings icon (it looks like a "gear" or "cog").
2 – Tap Privacy.
3 – Tap Lock screen.
4 – Select one of the following (depending on which options your phone gives you):
— Hide sensitive only
— Show sensitive content only when unlocked
— Hide all notifications
— Don't show notifications at all.

Follow these steps if you have an iPhone:
1 -Tap the Settings icon (it looks like a "gear" or "cog").
2 – Tap Notifications.
3 – Tap Show Previews.
4 –  Select either When Unlocked or Never.

There you have it. If you followed the steps above your most sensitive notifications should no longer be displayed on your smartphone's Lock screen.
Bonus tip: This post explains how to boot your Android phone or tablet into 'Safe Mode'.
---