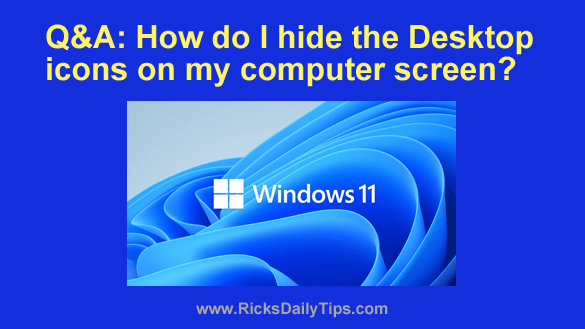 Note: The links in this post are affiliate links.
Question from Andie:  I have a gorgeous photo of a sunrise over Lake Michigan as my desktop background.
The problem I'm having is all the icons scattered around the screen make it hard to enjoy the photo.
I know you can hide the desktop icons because my boss has them hidden on her computer screen.
Is there an easy way to hide them when I don't need them and then make them reappear when I do? 
My new computer has Windows 11 and I still don't know very much about it.
Rick's answer:  I'm sure that's a very beautiful photograph, Andie. I can see why you would want to have it on display without your Desktop icons detracting from the beautiful scene.
Luckily, it only takes a couple of mouse clicks to hide the Desktop icons from your screen and a couple more clicks to restore them as needed. Here's how:
Note: You mentioned that your PC is running Windows 11, but this works on other recent versions of Windows as well.
To hide the icons, right-click anywhere on the Desktop and select View>Show desktop icons. All of the icons should immediately disappear from the Desktop.
To quickly restore the icons at any time, right-click anywhere on the Desktop and select View>Show desktop icons again. The hidden icons should immediately reappear.
That's all there is to it. Now you know how to quickly hide the icons from your Windows Desktop and make them quickly reappear when you need to access them.
I hope this helps, Andie. Good luck!
Update from Andie: Perfect!!!! That's exactly what I was looking for, Rick! Thank you!!!!
Bonus tip: Since you're new to Windows 11, I recommend that you check out Windows 11 for Dummies. This is an excellent resource for learning the ins-and-outs of Microsoft's latest version of Windows.
---