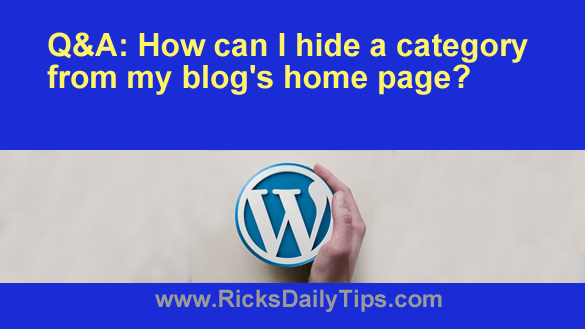 Question from Melanie:  Hi, Rick. I'm hoping you can answer a question I have about my WordPress blog.
Is there any way to hide a category from the home page?
In other words I want to keep the posts in this one specific category from showing up on the main page of my blog.
I've searched the settings pages from top to bottom and I can't find a setting to hide a category from the home page. If there is one can you tell me how to find it?
Rick's answer:  As you've discovered, there's no setting anywhere in WordPress that will allow you to hide a specific category of posts from your blog's home page, Melanie.
However, there's a nifty plugin that let's you easily hide one or more categories at will. It's called WordPress Hide Posts and it works like a charm!
I actually use it on this blog to prevent the archived editions of my newsletter from showing up on the Home page.
This plugin will let you hide any category(s) on your blog from virtually any section of your blog, including the Home page.
Installing and using this plugin is simple and easy. Just follow the steps below:
1 – Log in to your WordPress Dashboard.
2 – Click Plugins>Add New.
3 – Type wordpress hide posts into the Search box.
4 – Find the WordPress Hide Posts plugin in the list of search results and click the Install Now button.
5 – Click the Activate button.
The plugin is now installed and activated on your blog and you should see its widget in the sidebar every time you write a new blog post or edit an existing one.
Just check the boxes for every location where you don't want the post to appear and you'll be all set.
That's all there is to it. You now know how to hide one or more specific categories from the home page of your WordPress blog.
I hope this helps, Melanie. Good luck!
Bonus tip: This post explains how to hide a post or page from your blog's visitors (or even protect it with a password).
---